Be afraid. Be very afraid. Godzilla is poised to shake, stomp, rattle and roll through the River City next week.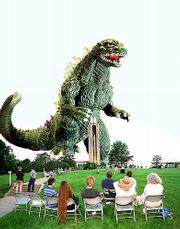 OK, amused is the more likely response. But like him or not, the big, ugly reptile who has smashed his way through 24 big screen appearances continues to be a cultural phenomenon more than 40 years after his creation, eliciting cult-like allegiance among fans.
Bill Tsutsui is a mild-mannered associate professor of history at Kansas University. That is until he talks about Godzilla, and admits to being one of those rabid followers. It is partially through his endeavors that several events surrounding the celluloid monster are taking place in Lawrence.
"Everyone knows I'm a Godzilla fanatic," he said with a laugh. "So we thought we'd have a little fun with that."
Tsutsui is a longtime fancier of the big lizard, and along with Michiko Ito, the director of KU's Japanese Studies Library, he decided to share his collectibles in a summer exhibit.
Then they started obsessing and like "Godzilla," their original idea spawned a few sequels.
The events now include:
"Godzilla and Popular Culture," an exhibit of Tsutsui's memorabilia in the Watson Library exhibit area.
"Understanding Godzilla," a panel discussion with KU faculty and students including Tsutsui; Jim Gunn, a professor emeritus of English; and Gary Ginther, a free-lance illustrator who wrote his master's thesis on the monster.

"Godzilla, 1954," a screening of the digitally remastered original film starring Raymond Burr, at Liberty Hall, 642 Mass.
Japan's Toho Studios is the film empire that controls all rights to "Godzilla." They can be tough to deal with, but Tsutsui said that a combination of Ito's negotiating and good timing resulted in them getting the rights to show the newly remastered version.
"Basically, Michiko talked really, really nicely to them," Tsutsui said.
It also helped that the studio was releasing a new version, "Godzilla 2000," which is set to open in August.
Because the 1954 original had not been available on video for several years, Tsutsui said that cleaning up the 1954 film and releasing it to the public was a good way for Toho to promote its newest film.
So when KU asked for the 1954 flick, they got it.
What: "Godzilla Takes Kansas!," a series of events exploring Godzilla as a cultural icon.Events:* Screening of the 1954 original movie, 7:30 p.m. Wednesday, Liberty Hall, 642 Mass.* "Understanding Godzilla," a panel discussion with Kansas University faculty and students, 7:30 p.m. July 20, Smith Hall, KU.* "Godzilla and Popular Culture" exhibit, Saturday-Aug. 15, Watson Library, KU.For information: Call the Center for East Asian Studies, 864-3849.
One reason for the new 2000 film is Toho's bitter disappointment over Tristar's 1997 "Godzilla" flick starring Matthew Broderick and the new, slick and soulless version of the monster.
That was the first, and probably last time that Toho will let someone else make a movie with its famous leading lizard. In Toho's version, Godzilla is his same cheesy-looking self, but with loads more character than Tristar's computer-generated hybrid.
"That (Tristar) film was pretty much a disaster all around. It wasn't consistent with tradition. " It didn't have the message the others did. It was terrible for aficionados and pretty much empty escapism," Tsutsui said.
The monster's message
Tsutsui has concluded that there are several deeper themes operating behind the toothpick sets and bad dialogue-dubbing found in such fare as "Godzilla vs. the Smog Monster" and "Godzilla vs. King Kong."
It's reading between those script lines that keep fans engrossed.
"The films reveal a number of themes about Japan, science fiction, modern culture ... nuclear war, technology out of control and the destruction of the environment," he said.
The original film is a dark, serious look at the tragic consequences of technology and the weaponry that it created. Godzilla, after all, is a mutant created from the radiation aftermath of United States thermonuclear bomb testing.
Because of that, some of the films feature an anti-American sentiment. In the 1997 Toho Studios release "Godzilla vs. King Ghidorah," the lizard is radiated by the Americans because he fought for the Japanese during World War II. Afterwards, he becomes a staunch defender of Japan.
"He's a horror made by the Americans," Tsutsui said.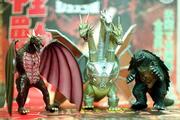 In the flicks where he's trashing, and not saving Tokyo, the scripts give Japan's military the chance to act heroic.
"It's a way of getting the military into action that is acceptable. If they were fighting against the Chinese it would be unacceptable. " There is a strong pacifist sentiment in Japan. But for the military to protect Japan against the monster is neat," Tsutsui said.
Fans have examined the films in numerous ways. Engineering students look at the structural damage done to devastated metropolitan cities, while accountants have done damage cost analysis and long-term economic forecasts on what it would take to recover from a Godzilla-like attack.
Lizard memorabilia
Like another film phenomenon "Star Wars," "Godzilla" has spawned legions of fans that snatch up anything and everything connected with the films.
At www.godzillatoy.com fans can track hard-to-find collectibles. There are also fan magazines, newsletters, shows and conventions.
Tsutsui has pens with Godzilla on them. And ashtrays. And a big mechanical toy that roars. He has pictures of himself in a Godzilla Halloween costume when he was 8 years old. And his favorite toy is a tin, remote-control Godzilla given to him by a toy store owner in Japan in the early 1970s.
But as big a fan as he is, even Tsutsui has his limits.
"I don't attend the shows. I have to draw the line somewhere," he said.
Copyright 2018 The Lawrence Journal-World. All rights reserved. This material may not be published, broadcast, rewritten or redistributed. We strive to uphold our values for every story published.