One in four Kansas bridges is inferior or obsolete, according to a national transportation research group.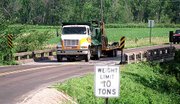 One in seven in Douglas County fits that description.
"In Kansas, we still have about one in four bridges that need to be improved," said Frank Moretti, research director for The Road Information Program in Washington, D.C.
Compared with other states, Moretti said, Kansas has taken better care of its bridges. It falls about in the middle of a ranking by number of deficient spans.
The Road Information Program, or TRIP, a nonprofit group funded by the construction industry, compiled its information from the Federal Highway Administration's latest data on every bridge in the nation, including the 25,919 in Kansas.
Motorists can cross the deficient bridges safely, but the spans should be repaired or replaced to meet today's standards, Moretti said.
A list of deficient Douglas County bridges:* County Road 1055, mile south of County Road 458* County Road 442, 3/10 mile west of Johnson County line* East 450 Road, 1/10 mile south of County Road 442* North 900 Road, 1.03 miles east of Lone StarObsolete bridges:* County Road 458, 2/5 mile east of East 1600 Road* County Road 1061, north of Eudora over the Wakarusa River* County Road 1023, .03 miles south of North 700 Road* County Road 460, mile east of County Road 1023* Shawnee County line, 1/10 mile south of North 1600 Road* Shawnee County line, 3/10 mile south of North 1600 Road* North 450 Road, .3 miles east of Osage County line* North 750 Road, 2.4 miles west of County Road 1029* North 1875 Road, 2/5 mile west of East 500 Road* Lone Star Lake spillway road* North 100 Road, 2/5 mile west of East 750 Road* East 900 Road, 2/5 mile south of County Road 458* North 640 Road, 2/5 mile west of East 1000 Road* North 1075 Road, mile east of East 1000 Road* North 1075 Road, 1/2 mile east of East 1000 Road* East 1200 Road, 3/10 mile south of 31st Street* East 1300 Road, 1/10 mile north of North 100 Road* East 2400 Road, 3/10 mile south of North 1300 Road* East 2400 Road, .8 miles north of North 500 Road
Of Kansas bridges, Moretti said 3,608 are structurally deficient, which means they show signs of deterioration caused by wear and tear. He said Kansas also has 3,240 obsolete bridges.
"Those bridges no longer meet current design standards or load capacity," he said.
Douglas County Public Works Director Keith Browning said 23 of the county's 161 bridges fit TRIP's deficient or obsolete category. That means exactly one in seven is deficient or obsolete.
In recent years, the county has lowered the load capacity to 10 tons on at least two of its bridges, Browning said. Those bridges are on County Road 442 just east of Eudora and on County Road 1055, three-fourths of a mile south of County Road 458. He said the county placed the County Road 1055 bridge on its five-year capital improvements plan and hopes to receive federal money to repair it.
Meanwhile, Browning said the deficient bridge creates problems because it is a main link between Lawrence and Baldwin, and unusable by some types of traffic.
"For example, concrete and grain trucks shouldn't cross that bridge," he said.
Still, Browning said Douglas County's bridges rate better than those in most Kansas counties.
It helped, he said, that county voters in the 1970s approved a bond issue that helped replace nearly 40 bridges.
"In general, our bridges are in pretty good shape," he said. "However, we do have some that are substandard and need to be replaced."
Bridge replacement is expensive.
Browning estimated it costs $60 per square foot to build a new bridge. That means it would cost about $240,000 to build a 100-foot by 40-foot bridge, he said.
By Kansas statute, any span of 20 feet or more is considered a bridge. Many of the county's low-water crossings are defined as bridges because they have a paved surface of 40 feet or more, Browning said.
"Bridges tend to be a problem that doesn't get front page headlines," Moretti said. "But in reality, it is essential that we lower the number of deficient bridges."
Copyright 2018 The Lawrence Journal-World. All rights reserved. This material may not be published, broadcast, rewritten or redistributed. We strive to uphold our values for every story published.