The Web is a funny place, but it still may not be ready for real comedy. There is a slew of humor sites on the 'Net, but only a few, including Z.com, MediaTrip.com and newcomer ComedyWorld.com, offer worthwhile live or archived comedy performances.
And for good reason. Live or prerecorded Internet broadcasts are hindered by the choppiness of streaming video, Post-it-Note-size viewing windows and 'Net traffic jams (or in Web parlance, "Net congestion"). Users lose visual and audio clarity as well as the human element when live comedy is translated to their computer screens.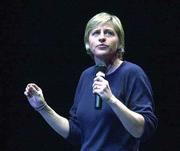 Still, online comedy can provide new kinds of interaction besides heckling.
At ComedyWorld.com (www.comedyworld.com), users can watch or listen to 20 live "Internet radio" talk shows while simultaneously posting notes to a message board or chatting with, sending e-mail to or phoning the comics, including Beth Lapides, Bobby Slayton and former "Brady Bunch" star Susan Olsen.
At Z.com (www.z.com), Netizens can connect with comedian Ellen DeGeneres by sending poetry or a note via e-mail, which she may read or respond to on the site in daily video updates from her cross-country club tour.
At MediaTrip.com (www.mediatrip.com), users can view and rate prerecorded clips of stand-up performances by more than 30 comics, including Sarah Silverman and "Mr. Show's" Bob Odenkirk and David Cross.
Such interactive opportunities may prove to be the biggest incentive to tune into comedy on the Web.
At more established sites, such as ComedyCentral.com or AENTV.com, for example, users can access clips from "The Daily Show With Jon Stewart," "Saturday Night Live," the Montreal Just for Laughs Festival or comedian Will Durst. But with a 56K modem or even a T1 line, the payback is minimal, with blurry video and choked-up audio.
Executives at Comedy World purposely set out to present talk shows instead of stand-up to make the content as accessible as possible.
"We're focused on an audience that can listen, which means you don't have to watch our shows to enjoy them," Comedy World Chief Executive Jody Sherman said, noting that few people have continuous broadband access at home. "And because it's talk-radio format, it's very easy to listen to."
Sherman plans to distribute Comedy World shows to local and satellite radio by late fall, which may be for the best. While talk radio is easy to listen to in the car, it is questionable whether it can work on the Web. Unlike online music radio, which can play in the background during one's workday, it is hard to listen to, let alone watch, talk shows -- complete with loud guffaws and phone-ins -- in a cubicle environment.
It's not that the ComedyWorld.com shows, such as "The Beth Lapides Experience" and "The Manversation," aren't funny; it's just that they can be difficult to get into when you're juggling deadlines or answering phones.
But if you do have free time, the shows, recorded in two- to four-hour blocks, can be quite amusing. On "The Ken Ober Radio Hour" last week, co-hosts Ober, Charles Zucker, Lou DiMaggio and Timbre Henning called a pay phone in Florida and asked the guy who happened to pick up a series of wacky, state-related quiz questions: "Pulp or no pulp?" "Bikini or thong?" "Is Mickey Mouse the antichrist?"
The confused but complying participant got all but the last correct; the answer the hosts were looking for was "yes."
Copyright 2018 The Lawrence Journal-World. All rights reserved. This material may not be published, broadcast, rewritten or redistributed. We strive to uphold our values for every story published.