July temperatures in the mid-90s and high humidity have concerned some Kansas residents, especially those who work with the elderly.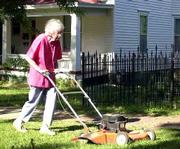 And forecasters say the heat isn't expected to let up for at least a week.
The Kansas Department of Aging recently issued a warning that senior citizens should take precautions against heat-related illnesses.
"I am urging seniors to reduce or eliminate strenuous activity during the hottest time of the day, to wear light-colored and lightweight clothing, to drink plenty of water, and to stay out of the sun," state Secretary of Aging Connie Hubbell said.
Staff members at Brandon Woods Retirement Community said the residents have been avoiding the sun during the past few days.
National Weather Service records showed the high temperature Sunday in Lawrence was 95. Temperatures have surpassed 90 every day since July 2. With the high humidity, those hot days feel even hotter, with heat indexes higher than 100 degrees for the past few days.
"When it goes above 105 for more than two days, we'll issue a warning," NWS meteorologist Mike Akulow said. "We also have a threshhold if it stays above 80 at night. It's been cooling down below that these nights."
"I am urging seniors to reduce or eliminate strenuous activity during the hottest time of the day."Kansas Secretary of Aging Connie Hubbell
Akulow said tonight's low is expected to be 76 degrees with a chance of storms. He expects temperatures to remain in the mid-90s through the week.
Lawrence-Douglas County Fire & Medical workers have done their best to beat the heat, even though air conditioning at one of the stations was on the fritz Sunday.
"They carry water to drink on the vehicles, and they're doing OK," Medical Batallion Chief Peter Houston said. "The personnel at station four are without air conditioning, so they are having to deal with that, and we hope to get that fixed by tomorrow."
State officials also have issued heat warnings in Nebraska, for both residents and livestock over the next couple of days. Officials are especially concerned about the southeast part of the state.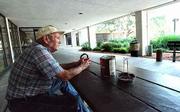 Despite the soaring temperatures, Lawrence Memorial Hospital reported only one heat-related illness Sunday evening.
Health experts say those most at-risk for heat-related illnesses are infants, the elderly, the obese and those who are chronically ill.
While most despair of the heat, some, such as the Lawrence Aquatic Center, bask in it.
"We've been averaging 2,500 to 3,000 people for the past four to five days in a row, so we're just a little bit above average," pool manager Jimmy Gibbs said. "It has been so warm a lot of people are taking the opportunity (to swim). We are getting a lot of families, not just kids, that are coming together."
HOT TIPS
The Kansas Department of Health and Environment has the following suggestions for coping with the heat:* It is important to drink plenty of water.* Alcoholic beverages speed up dehydration and should be avoided.* Check on any elderly or sick neighbors several times during a hot day.* If you don't have air conditioning, fasten a wet sheet to an open window and allow the breeze to flow in. A wet sheet hung between two chairs in front of a fan also can help cool down a room.* A circulating fan can help keep air moving inside a house.* Stay out of the sun, and take breaks from the heat by sticking to the shade.* Kansas seniors who need assistance in obtaining fans should contact the Kansas Department on Aging at (800) 432-3535.
Copyright 2017 The Lawrence Journal-World. All rights reserved. This material may not be published, broadcast, rewritten or redistributed. We strive to uphold our values for every story published.