Kansas basketball notes that might have been lost in the shuffle during the great Roy Williams Watch 2000
Jayhawk senior-to-be Luke Axtell has spent the summer both working out and working on a compact disc.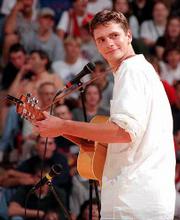 Axtell, a 6-foot-10 guard/forward from Austin, Texas, is an accomplished singer, as anybody who attended Late Night With Roy Williams the past two years, can attest.
"It's kind of progressive folk/country, not just straight country," Axtell's mother, Mollie, reports. "He's working down here with a good producer."
Interestingly, Axtell's sister, Brooke, 20, is working on her own CD, consisting of folk/rock with some blues.
Axtell left KU's team after 20 games last season because of an undisclosed medical condition. The three-point bomber has been working himself into tip-top shape.
"Here's a normal day: He gets up at 5 in the morning, runs three miles with his granddad. Then he works half a day," Mollie Axtell said. "He works on the CD in the afternoon, then lifts and shoots at night."
As far as the CD, Axtell will be sure to announce when and where folks can buy his first musical endeavor when it hits the stores.
David Lee, a 6-9 high school senior-to-be from St. Louis, has said Roy Williams' turning down North Carolina definitely helps KU's chances in recruiting.
He's already made unofficial trips to KU, Missouri, Duke, Kentucky, North Carolina, Florida, Illinois, Indiana and Saint Louis. Louisville also is on his list.
"It (Indiana) was probably my most interesting visit because you hear so much about coach (Bob) Knight in the media," Lee told the Lexington Herald-Leader. "Getting to spend a day with him and his son, I really learned some things. I learned he's not going to hide who he is. He is who he is. I really admire his honesty.
"He looked me in the eye and said, 'What do you want to know about this program? I'm not going to hide anything.' I kind of went to work on the (Luke) Recker and (Jason) Collier questions."
Those two players transferred from IU because of differences in opinion with Knight.
"I think he admired my honesty a little," Lee told the paper. "From what I've seen, I got a good impression of him."
Lee said he'd trim his list at the end of July.
Daniel Ewing, a 6-4 shooting guard from Houston Willowridge High, told the Herald-Leader that Kentucky was a clear leader over Kansas, Duke, Syracuse, Arizona and Cincinnati.
"I like a lot of schools. I think Kentucky would fit me best," Ewing said. "I don't want to say I'll commit right now. I want to take visits and enjoy the recruiting process."
The Nashville Tennessean says Vanderbilt athletics director Todd Turner was flooded with phone calls last week after one New York paper said Kansas had requested permission to talk to Turner about interviewing Kevin Stallings.
Of course, KU athletics director Bob Frederick made no such call.
"That is ridiculous and completely untrue," Turner said. "How do these guys come up with these things?"
A sign stating, "Please Don't Go!" was placed in Stallings' front lawn, ostensibly by a Vandy fan, last Thursday.
Stallings, an assistant at KU under Williams from 1989-93, might have been a leading candidate had the Jayhawk coach accepted an offer from his alma mater.
Stallings was a candidate for the Illinois opening last month before Tulsa coach Bill Self was hired.
"We'll probably have to deal with this with some regularity," Turner told the Tennessean. "I'm absolutely confident Kevin is committed to taking us to the top of the heap. I think we've gone through some understandable speculation about Kevin because of the schools that opened or were being speculated about.
"One was in his home state in Illinois and whatever speculation there was about Kansas one of his previous employers was only logical."
Stallings has a policy of not commenting on other job openings. Even after he learned Williams was staying at KU, he gave a no comment to the Tennessee paper.
Chris Thomas, a high school senior from Indianapolis, could cancel a verbal commitment to Notre Dame if coach Matt Doherty takes the North Carolina job.
"My status would absolutely change if Doherty does leave," the 6-1 Thomas told the South Bend Tribune. "I'm not saying that I won't go to Notre Dame if he's not there. It depends on what coach they bring in. But I haven't signed a letter of intent.
"Coach Doherty never made me any promises that he would be there when I got there," Thomas added. "The only thing he did say is he would act as a father figure when I got to Notre Dame."
Jordan Cornette, 6-8 from Cincinnati, also has committed to the Fighting Irish.
"He told me if he made any decisions, he'd talk to me first," Cornette said.
Copyright 2018 The Lawrence Journal-World. All rights reserved. This material may not be published, broadcast, rewritten or redistributed. We strive to uphold our values for every story published.