Apple's iMac DV and its new video editing software, partnered with a digital camcorder, has put home videographers in the director's chair.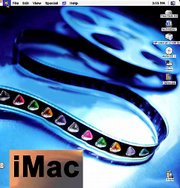 Joe Brand Sr. stores "tons and tons" of pictures in boxes from his days as a combat photographer for the Marines. One day, he plans to make a documentary-like video out of them. But not yet.
First, he wants to learn all he can about editing digital video on his new iMac DV computer.
"It was designed for novices, and that's me," said Brand, 54, of Tampa, Fla. "I need to start at ground zero and work up."
Brand chose a good time to start. Digital video is catching on at home. While video editing on a PC has been possible for several years, it has become easier and less expensive for the home user to tackle without elaborate or expensive equipment.
No longer will home computer users have to endure postage stamp-size images, nor will home videophiles need to suffer through shots of walls, floors or a wildly gyrating camera.
To transfer a video clip to his iMac, Brand simply plugs one end of a cable into the FireWire port on his computer, shown above, and the other into the FireWire connector on his digital camcorder.
Making it easy
Digital photography exploded in recent years as cameras got better and less expensive, computer prices fell and people shared pictures through e-mail or on the Web. Now, it is moving from still photos to video.
Jim Workman, publisher of Mac Today magazine in Dunedin, Fla., says seven years ago only a handful of people were interested in, or could afford, digital video editing. He estimates systems then cost $20,000 for the speed, power and storage necessary to handle video.
New interest is creating a new battlefront for Apple and Microsoft. Apple leads with its new iMac DV and iMovie software for digital video editing, which the resurgent underdog of computing has been heavily promoting in its advertising.
Microsoft chairman Bill Gates has been demonstrating video editing software that will be part of the new consumer version of the Windows operating system.
And Sony's Vaio line of Windows-based computers has video editing similar to the iMac.
But Apple is getting the early attention.
"The most powerful aspect of iMovie is that it lets you do something with your computer that you haven't been able to do in the past," said Jon Bass, chief of video software at Apple. "I describe it as opening doors."
Bass emphasizes ease of use, an Apple hallmark, particularly compared to previous technology for digital editing.
"In the past, working with video has just been very difficult, very cumbersome," Bass said. "And the reason it was so difficult is because the amount of data required to work with video was so great."
Three things make video easier to do on computers than previously, Bass said:

The DV file format, which compresses the video to take up less space for faster transmission.
Connections to transfer video from a camcorder to a computer and back again are easier to use and faster.
The latest version of Apple's QuickTime software makes working with video and other media easier.
Brand, who first heard about digital video editing about a year ago, waited until the iMac DV came out and bought one in early February. A week later, he bought a Canon ZR digital camcorder on closeout for $749.
His approach to his new hobby is methodical. He's going through the iMovie tutorial a lesson at a time -- and in order. He praises Apple for keeping it simple and including a glossary of terms.
Future phenom
As Apple tries to exploit the new computer video phenomenon, it has even given it a name: video publishing. It predicts the trend will have a major impact on the Internet as more people get fast connections that allow easier video streaming.
"I absolutely believe that we're going to see the same revolution with video publishing that we saw with desktop publishing," Bass said. "Right now, the only sort of prepared and packaged programs are what I see on TV. People are going to be creating their own movies, their own documentaries, their own stories."
Copyright 2018 The Lawrence Journal-World. All rights reserved. This material may not be published, broadcast, rewritten or redistributed. We strive to uphold our values for every story published.