Akron, Ohio — Logging onto the Web to find that brand-spanking-new jalopy is good, say carmakers and their dealers.
But they contend that buying it online is bad if the seller is a so-called Internet car broker, such as CarsDirect.com, that buys vehicles from dealers and then resells them to individuals.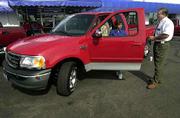 The manufacturers have tried to rein in dealers who sell to brokers. Some dealers have gone so far as to say a vehicle's warranty may be in jeopardy if a car is bought through a broker.
Baloney, counters CarsDirect.com, probably the best-known online broker. The head of the Better Business Bureau of Akron, Ohio, also said he doubted that vehicle warranties would be voided through brokered sales.
Buyers clicking online
The conflict between the new dot-com sellers and the established dealers and manufacturers is the latest skirmish in the automobile industry as the Internet changes the way people make purchases. What's apparent is that manufacturers and dealers feel threatened by the brokers.
Online broker sales account for only a tiny fraction of an estimated 17 million new vehicle sales annually, though exact figures were unavailable. But car buyers have increasingly been turning to them if not to buy, then at least to do research on vehicles.
www.CarsDirect.com, launched in May 1999, says it sold more than 6,000 vehicles last year, but estimated it sold about 6,200 in the first quarter of 2000. The company plans to complete an initial public offering this year, and has some major financial e-muscle behind it, including Dell Computer founder Michael Dell. The Southern California-based company has a network of about 2,500 new-car dealers around the country.
"We have virtually every make and model," said CarsDirect.com spokeswoman Wendy Barbour. Their site allows customers to make side-by-side comparisons of the vehicles. They also provide upfront, fixed prices for the vehicles, which are then obtained through franchised dealers, she said.
Brokers, who have been around for years in one form or another, aren't allowed by state law to sell vehicles in Ohio, though they can lease vehicles here to individuals. But the Web makes it easy for anyone to find a vehicle outside Ohio, agree to buy it and then make arrangements for delivery or pickup.
Warranties debated
Both Rich Klaben of Klaben Auto Stores in Kent, Ohio, and Gary Adams, president of the Greater Cleveland Automobile Dealers Assn., said whoever buys from a broker faces the possibility of having his or her new vehicle warranty voided. The two said that it's possible information about their new car or truck will not be entered into the manufacturer's database, which could lead to a voided warranty or to not being notified about any recalls.
"It's a consumer protection issue," Adams said.
But Victor Wlaszyn, head of the Better Business Bureau of Akron, said he did not buy that argument. His office has no complaints on record involving brokered vehicle sales, he said.
"The warranty is offered by the manufacturer of the automobile, and that warranty goes to whoever gets the title," he said. "The broker is not going to take title to the automobile. The person buying the automobile will have the title in his name. ... (Manufacturers and dealers) may not like it, but there is nothing in that transaction that will void that warranty."
CarsDirect.com's Barbour said there should be no problems with warranties. The dealers the company uses give the vehicle titles to their customers, she said.
Dealers have other reasons not to like brokers.
The warranty is offered by the manufacturer of the automobile, and that warranty goes to whoever gets the title.Victor Wlaszyn, head of the Better Business Bureau of Akron, Ohio
Most car dealers don't want to sell to brokers because the manufacturers find ways to financially punish them for doing so, said Klaben. For example, they can reduce a dealer's inventory or demand that they be repaid for any rebates, he said.
"It's not worth it. (Automakers) don't want brokering to go on," said Mike Ash Sr., in charge of Internet sales for Montrose Auto Group. "I'm not going to broker."
Car brokers have to find a dealer somewhere in the country to buy vehicles from, Klaben said, since the manufacturers won't sell directly to the brokers. Despite the financial disincentives from manufacturers, "typically they find some small dealer in the middle of nowhere," he said. Or the brokers buy dealerships themselves, he said.
Selling to a broker violates dealer franchise agreements, the Big Three automakers warned in letters sent to dealers recently.
"They are getting the cars from somewhere," Ford spokeswoman Anne Doyle acknowledged. Ford was the first manufacturer this year to send letters to its dealers warning them about selling to brokers.
"We're not selling books here," she said. "We want a direct relationship with the consumer."
That relationship doesn't exist when a broker gets between a customer and a dealership, she said.
The online brokers sell themselves on convenience and variety. And while they are a middleman between the maker and the buyer, customers can still get a good price. When an online broker buys from a dealer, there's generally some kind of markup but the brokers may not be charging their customers much more money, said Adams.
"They're trying to build up sales volume for Wall Street," he said.
Referral services
Meanwhile, dealers are trying to increase their own sales volumes.
Klaben, Adams and others said they prefer online referral services, such as an Autobytel.com, Cars.com or Carpoint.com. That's because the customer buys the vehicle the old-fashioned way directly from the dealer. The referral services simply steer customers to dealers.
"They don't handle the transaction," said Klaben, whose business uses online referral services. "All they do is e-mail a lead."
Dealers provide face-to-face contacts for their customers, he said. They provide test drives, information and additional services as well, he said.
In an online broker transaction, Klaben said "you're buying from somebody you can't see."
But Barbour said CarsDirect.com's research shows that 90 percent of people who bought from CarsDirect.com would refer friends to their site.
Copyright 2018 The Lawrence Journal-World. All rights reserved. This material may not be published, broadcast, rewritten or redistributed. We strive to uphold our values for every story published.