Wine novices and connoisseurs swirled, sniffed and sipped more than 200 wine samples Saturday night from some of the world's leading vintners at Abe & Jake's Landing, 8 E. Sixth.
It was more than just a party. The event -- Salute! A Festival of Wine & Food -- raised money for Cottonwood Inc., a nonprofit services provider for adults with developmental disabilities.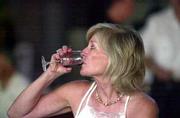 Beverly Moore, festival director from Standard Beverage Corp., the event's sponsor, said guests received 20 tickets that they could exchange for one-ounce samples of the wines of their choice.
"That's enough to splash around your mouth to know if you enjoy that flavor or not," she said.
Tickets to the sold-out event, now in its second year, were $50. Four hundred tickets were sold. Kesha Dougan, Cottonwood's director of community relations, said that, after expenses, last year's festival hauled in $38,000, which went toward providing residential, employment and support services for Cottonwood clients.
Throughout the evening, attendees perused and bid a silent auction. A live auction ended casual browsing -- with auctioneers peddling rare and fine wine lots, wine-related "experiences," giftware, and other products and services.
Wine "experiences" immerse sippers in scenarios such as in-home wine seminars or tours of the California wine country.
The live auction featured sought-after French wines, including one bottle of 1982 Chateau Lafite Rothschild, valued at $700.
Dana Fertig of Lawrence said he wasn't a wine aficionado but that he had his eye on a few bottles in the live auction.
"I like nice wine," he said. "I'm not sure if that makes me a connoisseur."
Wine was not the only menu item available. Gourmet cuisine from area restaurants and caterers tempted guests, some of whom sought the perfect wine-food pair.
"Wine is really meant to be enjoyed with food," Moore said.
Gaye Groene of Lawrence said she didn't know which wine would go best with the spicy gumbo she was eating.
"Maybe I should have got a beer," she said.
Moore said that, as a general rule, white wine went best with lighter meats, red wine with dark meats.
"But if you want to drink a chardonnay out of a jelly glass with a big old thick ribeye, please do," Moore said. "It's all about individual taste."
Copyright 2018 The Lawrence Journal-World. All rights reserved. This material may not be published, broadcast, rewritten or redistributed. We strive to uphold our values for every story published.