Children and adults alike who had been waiting for months for the fourth Harry Potter book didn't have to delay their anticipation a second longer Saturday morning.
The first copies of author J.K. Rowling's fourth children's book about a bespectacled, young wizard, "Harry Potter and the Goblet of Fire," went on sale at 12:01 a.m. Saturday at several Lawrence bookstores. At 9 a.m., they also became available at the Lawrence Public Library.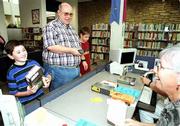 The boy who got the first copy of the 752-page novel at Borders Books and Music, 700 N.H., was reading the first chapter as he left the store, said Doug Weaver, a Borders manager.
"I'm sure if somebody had had the gumption last night and had driven around at 1 a.m., half the lights in the city would have been on with people reading," he said.
Weaver, 41, admitted that he had stewed over the book into the morning hours.
"I started at about 2 a.m. and got a couple chapters in before I fell asleep," he said.
About 150 of the more than 400 people who reserved a copy at Borders waited Saturday morning in a line that snaked from the registers to the cafe at the back of the store. Although he didn't know exact sales figures, Weaver said that business remained steady throughout the day and that by 3 p.m., all copies were either sold or spoken for.
The Lawrence Public Library began a waiting list for its 13 copies in February, said Barbara Michener, a library assistant. Saturday afternoon, 10 people on the 36-person list had come in to check out their copies, which they'll be able to keep for one month.
"If people came in and reserved one now, they would have a two-month wait," Michener said.
Thirteen copies of a single book is unusual at the library.
"We learned with the early Harry Potters to just go ahead and get a lot," Michener said.
Hastings Books, Music and Video, 1900 W. 23rd, still had about 40 copies available Saturday afternoon, said manager Jaymie Kuroyama. The store opened at midnight Friday and sold 79 copies within half an hour.
Pottermania was rampant at smaller bookstores in town as well.
Pat Kehde, co-owner with Mary Lou Wright of The Raven Bookstore, 8 E. Seventh, said that about 20 people had been waiting in line outside the store a half hour before it opened at 9 a.m. By Saturday afternoon, she had turned away about 25 people.
"All the ones we have are spoken for," she said. "But we're expecting a shipment this week."
The supply at the Children's Book Shop, 937 Mass., had dwindled to seven copies Saturday afternoon.
Despite hubbub surrounding the book's release, patrons competing for the first copies out of the box behaved themselves.
"The kind of person who is interested in reading Harry right away is a book reader," Weaver said. "They go hide in the corner and read."
Copyright 2018 The Lawrence Journal-World. All rights reserved. This material may not be published, broadcast, rewritten or redistributed. We strive to uphold our values for every story published.