Kansas City, Mo. — Since its opening in 1955, Disneyland has been an international symbol of America.
To some, it's a fantasy land where all is good and anything is possible. To others, it's a giant Mickey Mouse emporium that reflects our consumer society.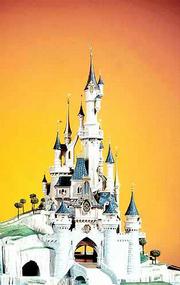 What's undeniable about Disneyland is that the theme park's design blurs the line between actuality and illusion, and has had a significant influence on architecture in the real world.
"His theme parks aren't cookie-cutter " ," Karal Marling, professor of art history and American studies at the University of Minnesota, said. "This park (Disneyland) is like improving on the place we've loved in our imagination."
Marling is the curator of "The Architecture of Reassurance: Designing the Disney Theme Parks," which runs through Sept. 3 at the Nelson-Atkins Museum of Art. The exhibit contains about 350 objects selected from the archives of Walt Disney Imagineering, Disney's design team. The show includes architectural drawings, models, photographs, posters, advertisements and other artifacts.
Kansas City is celebrating its 150th birthday, so it seems fitting that the Nelson-Atkins museum would book an exhibit that would celebrate the genius of one of its native sons.
Walt Disney, the man behind the mouse, grew up in Marceline, Mo., and was inspired by the architecture of the Country Club Plaza at the heart of Kansas City.
An introductory gallery gives visitors a glimpse into the evolution of Disney's thinking about theme parks and his interest in robotics.
"After the financial failure of 'Fantasia' he became less engaged in the film industry," Marling said. "He became interested in railroad cars. " He became interested in miniaturization " (the idea) to shrink down and to control the environment."
Artifacts in this section include the earliest site plans for Disneyland, a handmade box car from his own backyard park and rare footage of Disney explaining his vision.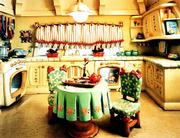 The exhibit is divided then into sections named after the different themed lands found in Disneyland.
"Main Street, U.S.A." displays the original models from which Disneyland's Main Street was built. Renderings show the process and set design techniques used to erect the buildings.
" . . ." ('Main Street, U.S.A.') shows the importance of facades, and that architecture can be like a movie set," she said, adding that the storefronts also make a statement about capitalism being a fact of American life.
"Fantasyland" examines the architecture developed from the fairyland settings of such Disney movies as "Peter Pan," "Pinocchio" and "Snow White and the Seven Dwarfs."
"He hit upon the heart-shaped (theme park) plan with one point of entrance, with a central axis leading to a castle," she said, adding that all Disney theme parks follow that design.
Castles, of course, played a big role in many of his movies, so this section explores the castles' moods, spaces, exterior embellishments of the castles in his movies and in the Disney parks around the world.
For example, in Japan, a castle's environment is scary and is typically the site for the battle between good and evil. The castle for the "It's a Small World" attraction is inspired by Cubism.
"Frontierland and Adventureland" reflects Disney's interpretations of the inhabited natural world. This section includes designs for the Jungle Cruise attraction, based loosely on "The African Queen"; Audio-Animatronics for the Enchanted Tiki Room, including talking birds; the Swiss Family Robinson tree house; and the Indiana Jones Adventure ride.
"Tomorrowland" echoes the Imagineers' and Disney's notions about the future. Disney was a strong proponent of space travel and a pioneer in public transportation.
"JFK wouldn't have launched the New Frontier but for pressure generated by the popular culture, such as Disney showed," Marling said.
This section moves from Buck Rogers' space-rocket fantasy to futuristic consumer products to a NASA-style view of a future city.
"It also includes an alien encounter and reminds us of the 'evil'-ution," she said. "It deals with fear of the future."
DISNEY DOINGS
What: "The Architecture of Reassurance: Designing the Disney Theme Parks."When: Through Sept. 3.Where: Nelson-Atkins Museum of Art, 4525 Oak St., Kansas City, Mo.Special events:* Walk-in tours, 1 p.m. Wednesdays and 3 p.m. Sundays, through Sept. 3.* Saturday: "Making Imagination Safe in the 1950s: Disneyland's Fantasy Art and Architecture," lecture, 2 p.m.* July 22: "Celebrate Imagination!," create a sculpture with Disney Imagineers and other family activities, noon-4 p.m.* July 29: "Calamity Jane," film, 2 p.m.* Aug. 5: "The Wizard of Oz," film, 2 p.m.* Aug. 12: "Forbidden Planet," film, 2 p.m.* Aug. 19: "Back to the Future," film, 2 p.m.* Aug. 25-26: "Imagination Stations and Musical Performance," create musical compositions at interactive computer work stations, 10 a.m. to 9 p.m. Aug. 25 and 10 a.m. to 5 p.m. Aug. 26.* Aug. 27: "Imagination Stations and Musical Performance," interactive performance by musicians from the University of Missouri-Kansas City Conservatory of Music, 2 p.m.Museum hours: From 10 a.m. to 4 p.m. Tuesdays-Thursdays; 10 a.m. to 9 p.m. Fridays; 10 a.m. to 5 p.m. Saturdays; and noon to 5 p.m. Sundays.
Copyright 2018 The Lawrence Journal-World. All rights reserved. This material may not be published, broadcast, rewritten or redistributed. We strive to uphold our values for every story published.