Arthropods and Vulcan mating rituals were subjects of discussion at a science-fiction awards dinner Friday night at Kansas University.
Presenters read excerpts from the award-winning short stories and novels works that construct fantasy worlds and beings and explore scenarios of alien-human contact.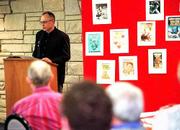 The ceremony kicked off a weekend science-fiction and fantasy conference at which scholars and authors from around the world will discuss "Science Fiction in the 21st Century."
"It's appropriate for science-fiction writers that have been writing about the 21st century so long to finally talk about our place in it," said James Gunn, author and director of KU's Center for the Study of Science Fiction.
But Friday night's ceremony wasn't about the future. Two prestigious awards were handed out for recent works, and four science-fiction authors were inducted into the Science Fiction and Fantasy Hall of Fame.
Vernor Vinge's "A Deepness in the Sky" won the John E. Campbell Award for the best science-fiction novel of the year, and David Marusek's "Wedding Album" won the Theodore Sturgeon Award for the best short science fiction of the year. Vinge, of San Diego, and Marusek, of Alaska, both were at the ceremony to accept their awards.
Theodore Sturgeon and Eric Frank Russell were inducted into the hall of fame posthumously. Robin Sturgeon was present to accept the induction for his father. Living authors Poul Anderson and Gordon R. Dickinson also were inducted but were unable to attend.
Gunn said the conference, which begins today, would consist of an informal, roundtable discussion of science fiction in the 21st century. Topics likely will include new media such as electronic publishing and handheld readers and how science-fiction writers might be able to use these new formats to tell stories.
The science-fiction-related events won't end with the conference. Gunn, KU professor emeritus of English, will begin teaching a two-week intensive course in science fiction on Monday.
Copyright 2018 The Lawrence Journal-World. All rights reserved. This material may not be published, broadcast, rewritten or redistributed. We strive to uphold our values for every story published.