Kansas City, Mo. — Kansas City, Mo. Roy Williams walked off a plane Wednesday night at Kansas City International Airport to a throng of television cameras and applause from a handful of fans who had driven to meet him at the airport.
The KU men's basketball coach, just back from vacationing in South Carolina, said he was still struggling with a decision whether to remain at Kansas, where he was the winningest college coach of the 1990s, or jump to North Carolina, his alma mater.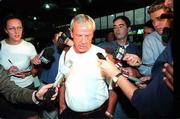 "The last seven days have been the most difficult of my life," he said. "I have people at both places I care a great deal about. I wish I could coach both places."
Williams, who has been in the Carolinas with his wife, Wanda, and daughter, Kimberly, since Saturday, arrived alone Wednesday night.
He denied reports from a Durham, N.C., newspaper that he had accepted a 7-year contract to coach the Tar Heels.
"That is absolutely not true," he said.
Williams said he would meet today with Bob Frederick, Kansas University athletics director, and Chancellor Robert Hemenway. The meeting, Frederick said, would be this morning.
Before leaving Saturday evening for the East Coast, Williams said he would not make a decision until he met face-to-face with Hemenway and Frederick.
Presumably, after today's Frederick-Hemenway session, Williams will make his decision, tell his players, then go public.
The 12th-year KU coach said Wednesday night that he'd like to let the public know his decision before Friday but that he couldn't guarantee he'd be able to deliver earlier.
The Durham (N.C.) Herald-Sun continues to report that Roy Williams has verbally accepted a 7-year contract offer to coach North Carolina. Williams denies the report.On Tuesday, the Herald-Sun had just one source with knowledge of the 7-year deal. On Wednesday, the paper unearthed two additional sources.Two of the papers sources said UNC assistant Pat Sullivan will be included on Williams staff. A third source said Williams will bring in three new assistants.
"By Friday afternoon, I'll know, and everybody else will know, too," he said.
The summer recruiting period will begin Saturday, and Williams earlier promised a decision by Friday.
If Williams decides to go to North Carolina, Frederick will move quickly to find a replacement.
"We have certain procedures we have to follow, but we are prepared to move quickly if we have to," Frederick said. "I think we can move quicker than the University of Kansas has ever moved in a similar situation."
Already secured is a waiver from the KU equal opportunity office to bypass affirmative action hiring requirements.
Would Kansas have a new coach on board in time for Saturday's start of recruiting?
"I don't think so," Frederick said. "I'm not sure we could do that."
Still, the importance of Kansas naming a new coach isn't lost on Frederick, a former assistant coach at Kansas, Stanford and Brigham Young.
"It's crucial for us," Frederick said.
KU has six scholarships available and needs a strong recruiting class after signing only one player Bryant Nash of Carrollton, Tex. this year.
Asked if he had a successor in mind, Frederick replied: "I'd rather not comment until Roy makes a decision."
Meanwhile, all Frederick and Hemenway and Kansas University's considerable flock of basketball fans can do is what they've been doing for nearly a week. Wait.
"My stomach has been in knots since last Thursday night," Frederick said, "but I've been through this before."
Not too long after Kansas won the 1988 NCAA championship, coach Larry Brown wavered between remaining at Kansas or returning to UCLA for a second coaching stint at the Los Angeles school.
Brown was having so much difficulty making a decision that he awakened Frederick at 2 a.m. and asked him to come over to his house to discuss the situation.
After telling UCLA he was coming, Brown changed his mind and remained at KU, if for a short time. About a month later, Brown accepted a lucrative post as head coach of the NBA San Antonio Spurs.
Copyright 2018 The Lawrence Journal-World. All rights reserved. This material may not be published, broadcast, rewritten or redistributed. We strive to uphold our values for every story published.