The chief attorney for the Kansas Department of Transportation is working on his own to revive the eastern leg of the South Lawrence Trafficway a project many have taken for dead.
Wednesday, federal officials signed the final environmental study of the proposed road, calling the controversial plan to complete the trafficway's loop around the southeast corner of Lawrence a "no build."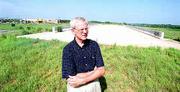 "That will, at least for the time being, terminate Federal Highway's involvement in the project," said David Geiger, Kansas division administrator for the Federal Highway Administration, who signed the so-called supplemental environmental impact statement. "We won't agree to move forward, because we can't get agreement on a build alternative."
But KDOT Chief Counsel Mike Rees, of rural Lecompton, told the Journal-World he had been talking privately with the Wetlands Preservation Organization, which opposes the road. He has talked with at least one county official who supports it, though Rees wouldn't say which one. And, he said, he's talked to others involved with the project, but wouldn't identify them.
Rees would not say whether Haskell Indian Nations University officials had been contacted; a reporter's calls to Mamie Rupnicki of the Haskell Board of Regents were not returned Wednesday.
Rees said he is making the overtures as a "concerned citizen," not as an official of KDOT.
Roadblock to growth
The traffic problems created by Kansas Highway 10 are hurting the prospect of industrial and high-tech development, Rees said.
"The future of the state is kind of along K-10 and Interstate 70," he said. "The difficulty of getting back and forth is just embarrassing. It was a mistake to just give up."
The trafficway's completion was scuttled after years of controversy because federal officials said they wouldn't approve a route without consent of Haskell University. Highway officials have studied three possible routes for the eastern segment. But opponents say any path that damages the Baker Wetlands is unacceptable.
"It hasn't changed. They want to build their road," said Anna Wilson, a spokeswoman for the Wetlands Preservation Organization, which includes Haskell students and alumni.
"They have been contacting me and floating various proposals trying to get the trafficway revived," said preservation organization attorney Bob Eye. "I'm not prepared to discuss any of them. As far as our clients are concerned, any proposal that is predicated on the idea that there will be a road across the wetlands is not an acceptable proposal."
Rees said he is meeting with people because he wants to present a new plan to Kansas Transportation Secretary Dean Carlson within a month. He said he had been working on possible alternatives since last fall.
KDOT spokesman Marty Matthews said Carlson would listen to Rees.
But "if it means starting at ground-zero, we would not be very predisposed" to consider a Rees-crafted plan, Matthews said.
Activists reinforce
Rees' back channel efforts have sparked new activity among anti-highway activists. Last week, members of the Wetlands Preservation Organization and the Franklin-Douglas Counties Coalition of Concerned Citizens had their first joint meeting. The groups agreed to remain fast to their respective goals of preserving the wetlands and seeing that KDOT-planned expansions to U.S. Highway 59 happen along the road's current path.
Among Rees' ideas for coaxing Haskell agreement to the trafficway:
Adding property to expand the Baker Wetlands, perhaps two 20-acre strips on the east and west sides and as much as 160 acres of the wooded land south of the Wakarusa River.
Improvements to 23rd Street, bettering access to the Haskell campus.
A American Indian center for spirituality and culture built at Haskell.
Rees, acting alone, can't deliver those inducements. But, he said, he would lobby the Kansas congressional delegation for the cultural center. And, he said, city, county and other sources might be tapped for the 23rd Street improvements. KDOT might agree to finance the wetlands expansion, he said.
Rees said the ideas had been well received by those to whom he has spoken, but that he has been unable to find consensus for a trafficway along 31st Street.
More recently, he said, he has turned attention to a 38th Street route. He said an inducement that might help win Haskell approval is removal of 31st Street from the campus.
"Nothing is off the table," he said.
But Wilson, of the Wetland Preservation Organization, said her group wouldn't accept any road built through the wetlands.
"We didn't go through all this mess to say, 'Yeah, we'll let you do it,'" she said.
She said a group of Haskell students is studying the process to remove 31st Street, arguing that the easement should never have been granted. But, she said, a 38th Street alternative wouldn't find favor with opponents because it would cross ground that was formerly the site of a guard house past which students escaped the school.
Rees said he'd continue his efforts.
"I don't particularly subscribe to the tyranny of the minority," he said. "There are some people who are just not going to be satisfied with anything."
SLT opponents have for some time urged KDOT to consider a route south of the Wakarusa River. But the highway department has rejected the suggestion, saying a route south of the river would cost too much.
Copyright 2017 The Lawrence Journal-World. All rights reserved. This material may not be published, broadcast, rewritten or redistributed. We strive to uphold our values for every story published.