It's the Fourth of July, with picnics, parades, patriotism and pyrotechnics. What are you doing inside watching television? Well, if you insist on catching some cathode rays, here are the best ways to capture the spirit of the day:
Barry Bostwick ("Spin City") hosts "A Capitol Fourth" (7 p.m. PBS, TV-G), a live musical extravaganza from the west lawn of the U.S. Capitol. Bostwick will lead a rousing rendition of songs from "The Music Man." Soul legend Ray Charles will sing his signature version of "America the Beautiful." Lee Ann Womack, whose song "I Hope You Dance," is currently at the top of three country charts will join David Benoit and Kristin Chenoweth to celebrate the memory of cartoonist Charles Schulz with music from popular "Peanuts" specials. Audra McDonald will perform selections from classic Broadway musicals, including "If I Loved You" and "June is Busting Out All Over." The National Symphony Orchestra will commemorate the 100th anniversary of the birth of composer Aaron Copland with a performance of his "Fanfare for the Common Man." The music concludes with Tchaikovsky's "1812 Overture" set against the boom of military cannons and a dazzling fireworks show. You can tune in the music in stereo on National Public Radio.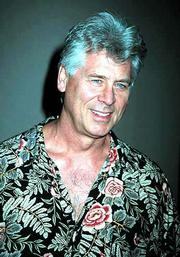 Conductor Keith Lockhart and the Boston Pops will host "Pops Goes the Fourth!" (6:30 p.m., A&E;, TV-G), live from the Banks of Boston's Charles River. They will be joined by singer Don McLean, trumpeter Arturo Sandoval and concert star Linda Eder. They also will fete composer Aaron Copland with a performance of his "Lincoln Portrait." The orchestra will perform the theme from the new film, "The Patriot," composed by former Pops conductor John Williams.
Florence Henderson and David Alan Grier co-host "The Macy's Fourth of July Fireworks Spectacular" (8 p.m., NBC). For the first time on network television, this special will show fireworks from four different New York city locations. In addition to the show in the sky, there will be performances by the cast of the Broadway shows, "Kiss Me Kate" and "The Music Man."
Other highlights
Scheduled on a repeat of "60 Minutes II" (8 p.m., CBS): hostage-takers in Iran who now support reform; the return of a ferry to a rural Mississippi island; profile of Melissa Etheridge.
A child accused of infanticide on a repeat of "Judging Amy" (9 p.m., CBS, TV-PG, D, L).
Scheduled on a repeat of "Dateline" (9 p.m., NBC): the contract killing of an Atlanta mother.
Sipowicz doesn't give Jones a break on a repeat of "NYPD Blue"
(9 p.m., ABC, TV-14, L, S).
A visit to the residences of presidents Grant, Eisenhower and both Roosevelts and Adamses on "Homes of Our Heritage: The Presidents"
(9 p.m., HGTV).
Cult choice
Janis Joplin and Jimi Hendrix stand out on a bill that includes The Who, the Mamas & the Papas, Otis Redding and the Jefferson Airplane in the 1967 concert film, "Monterey Pop" (5:30 p.m., AMC).
Series notes
Defending the son of a big shot on "JAG" (7 p.m., CBS, TV-PG, L) On back-to-back episodes of "3rd Rock from the Sun" (NBC), plastic surgery (7 p.m., TV-PG), and the boss returns (7:30 p.m., TV-PG) On the first of two episodes of "Family Guy" (Fox), Mr. Natural (7 p.m., TV-PG, L), and religious quarrels (8 p.m., TV-14, D, L) Regis Philbin hosts "Who Wants to be a Millionaire" (7 p.m., ABC) A chip off the old block on "Shasta" (7 p.m., UPN, TV-14) Sudden success of a former loser on "Buffy the Vampire Slayer" (7 p.m., WB, TV-14, D, S, V) ... On the first of two episodes of "The PJs" (Fox), wrestling (7:30 p.m., TV-PG, L), and Muriel's promotion (8:30 p.m., TV-14, D, L, S, V) Spiritual insights on "Dilbert" (7:30 p.m., UPN, TV-PG).
A jet-fueled hotrod Lincoln on "I Dare You! The Ultimate Challenge" (8 p.m., UPN, TV-14) Sensitivity training on "Angel" (8 p.m., WB, TV-14, L, S, V) An un-family tradition on "Dharma & Greg" (8:30 p.m., ABC, TV-PG, D, L).
Copyright 2018 The Lawrence Journal-World. All rights reserved. This material may not be published, broadcast, rewritten or redistributed. We strive to uphold our values for every story published.