When Derek Frost needed to find his first post-college job, he didn't pound the pavement or scan the classifieds to seek out the perfect position.
He did the whole job search process online, from filling out an electronic resume to setting up his initial interviews with about 20 on-campus recruiters.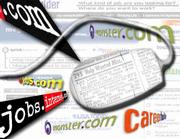 Frost a Kansas University senior who's finishing his bachelor's degree in business administration this summer used a Web database of KU student resumes and online job listings.
The database, called CareerConnections, is offered to KU students through the University Career & Employment Services. The database is also available in separate career centers in the schools of business, engineering and journalism.
"Through CareerConnections, you can go in and see all the companies who are going to be interviewing on campus. Companies take all the resumes (from job candidates electronically), and then about a week before the recruiters come, you're either preselected or not for an interview," Frost says.
"I'd hate to imagine the old way of looking for a job. Everything's easier. You save so much time."
Frost snagged a job as a production supervisor with Hormel Foods in Fremont, Neb. "I'm excited. This was the one I really wanted," he says.
Speeds the search
Here are
the top 10 career sites on the Web that are used from home, in millions of unique visitors, as complied by the Washington Post in March.*
monster.com
, 2.6*
jobsonline.com
, 1.4*
careerpath.com
, 0.8*
headhunter.com
, 0.7*
hotjobs.com
, 0.6*
careermosaic.com
, 0.4*
web.hire.com
, 0.29*
careers.yahoo.com
, 0.27*
careerbuilder.com
, 0.25
It's rapidly becoming the norm for job seekers to go online to look for work, research potential employers, post their resumes and apply for openings.
Cheryl White sees evidence of this trend every day.
She's manager of the Lawrence Workforce Center, 833 Ohio. The center is a division of the Kansas Department of Human Resources.
White and her staff help connect job seekers with companies that need to fill positions. In the last year, the Lawrence Workforce Center has shifted to Internet-based services.
"We have PCs here that customers are welcome to use to access jobs listed on the Internet, or we'll be happy to show them how they can peruse the Internet for a work search," White says.
"On our Web site, they can go in and access job listings by across Kansas and nationwide. We link up with America's Job Bank. Customers can put their rmdirectly online through our Web site, kansasjobs.org."
The Web is a tool that really speeds up the job-search process, White says.
Lynn George has been KU's employment manager for the last 25 years, helping to fill nonacademic staff positions at the university.
She's watched as more people have turned to searching for jobs online in recent years.
"When the Internet was first up and running, it was usually used by people who were looking for highly technical or professional positions," George says.
"Now it's not unusual for a refrigeration technician or a secretary to contact me electronically, apply by e-mail or to look at our vacancies online."
The Internet makes White's job easier.
"Relying on the mail to get documents back and forth is not the most efficient use of our time. It's so much nicer to get the process done electronically," she says.
Valuable tools
Lisa Leroux-Smith is director of the Business and Engineering Career Services Partnership at KU.
She works with companies that recruit students from these two schools, and she helps students with job searches.
CareerConnections is a great resource, she says.
"Employers search that database on the Web to find potential candidates. Usually there's a couple thousand students who are in there, and hundreds of companies search that."
Through the database, hundreds of students have found jobs, she says.
The Internet can help develop a career search, but job seekers shouldn't look to it to clinch the job.
"Employers tell us the most effective way (to find good candidates) is on-campus recruiting and interviewing, internship programs and career fairs," says Gail Rooney, director of KU's Career and Employment Services.
"The Internet and the Web are valuable tools, but they're not going to get you hired. The final decision still comes down to personal communication."
Copyright 2018 The Lawrence Journal-World. All rights reserved. This material may not be published, broadcast, rewritten or redistributed. We strive to uphold our values for every story published.