Baldwin — Baker University wants to give some land away. But city officials here won't take it. They say the offer's timing is bad and they don't like some of the other details, either.
Last week, they rejected Baker's offer to let the city use university land for public ball fields and a community center in an area called North Park.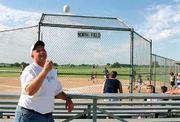 Baker bought the 50.7 acres in 1994. It sold the land to Baldwin developer Michael Green for $225,000. But under the scenario rejected by the city, Green would have reserved 16.3 acres for a community center with an indoor pool. Baker would have donated the $225,000 received from Green to help build the facility, said Bob Layton, the university's vice-president of financial services. On the remaining 34.4 acres, Green will build homes near his Signal Oaks development.
"I think there's a real need for a community center in the city," Layton said.
Layton said Baker also would have leased 14 acres near the city for ball fields at $1 a year for 25 years. Baker would have kept another 5 acres where its soccer fields are, he said.
The offer may sound good, but city officials didn't think so. Without a formal vote or public discussion, city council members turned down the offer. Mayor Stan Krysztof said he individually asked the five city council members for their input before the rejection.
Krysztof said the main reason the city said no was the expense.
"It would have been a $2 million community building which is being put on dirt that Michael C. Green owns," he said.
Besides building the community center, Krysztof said the city had to agree to build the indoor swimming pool, put in the utilities and buy out and move the Palmyra Township hall along County Road 1055 and the Knights of Columbus building, which were in the way of an outdoor walking trail, included in the offer. He said Baker would have had access to the pool and contributed $10,000 annually for maintenance.
"That's what Baker was requesting," he said.
Now, Green likely will develop the entire 50 acres, Layton said.
Recreation needs
Because the town is growing, more children are filling the city's ball fields and school gymnasiums.
More space and facilities are needed, recreation commission director Monte Ezell said.
Ezell also sees interest in expanding youth programs to include flag football and volleyball and to add adult programs, too.
"I am anticipating over the next 10 years in Baldwin, from a recreation standpoint, we're going to see growth in all areas," he said. "It's going to be a real problem to find space to do everything."
Another player
The Baldwin school district owns the land where the existing city ball fields are. The district annually allocates 2.5 mills about $99,000 for the 1999-2000 school year to the recreation commission for operation costs and employee benefits and salaries.
But the district plans to build an auditorium and or parking lots on the fields in a few years, Supt. Jim White said.
"I think it's going to be four, five or six years before we get to the point we have to violate the ball field uses for additional parking or buildings," he said.
White said the district is looking to raise its local option budget percentage from about 12 percent of the general fund budget to 25 percent, the maximum allowed. The change could generate an additional $800,000 for the district, including about $320,000 in state matching funds, to pay for much-needed additions and renovations at school buildings. Voters will have their say about the LOB increase in November.
This past school year, White said, the district's head count increased by 20 for a total of 1,330 students. This fall, he predicts 25 to 30 more will enter the system and enrollment will keep growing in years to come.
"I'm a little concerned because there's so many houses being built here," he said. "If all the families have school-age children, then we could be faced with a difficult problem."
Ezell has similar concerns.
He said at least 300 youths participate in the commission's basketball programs, 100 in soccer and 400 in baseball during the summer.
"The programs are continuing to grow with the families that have moved to Baldwin," he said.
Not a priority
Baldwin City Manager Larry Paine doesn't doubt the need for more recreational areas.
"As a community, we really need recreation land and facilities," he said.
But Paine said the timing is bad. He said the city needs to focus on infrastructure projects, and Krysztof agrees.
The city has dedicated more than $1.1 million for two major projects to be completed during the next few years.
Paine said the city will spend $750,000 to improve County Road 1055 which turns into Sixth Street within the city limits, and the county will contribute $565,000.
Baldwin also will take part in a joint project with Rural Water District No. 4 to relocate their water lines from the Baker Wetlands and share one common line along 1055. The city's share of the project totals at least $400,000.
"When you put those projects in place, you run out of funds and infrastructure gets to the point of saturation that you have to say, 'Folks, that's enough,'" Paine said.
Krysztof said he would like the city look at buying about 200 acres to build an industrial business park and recreation area. He said the acreage wouldn't have to be in the same location for the two projects.
Kyrsztof said city officials have been talking to Ezell and White about the project and are looking at grants to buy the land.
"The plan is rolling," he said.
Copyright 2018 The Lawrence Journal-World. All rights reserved. This material may not be published, broadcast, rewritten or redistributed. We strive to uphold our values for every story published.