A new law designed to open up space in prisons could turn nonviolent criminals loose on the streets of Kansas.
That worries folks like Douglas County Dist. Atty. Christine Kenney Tonkovich and others who are trying to reduce the impact.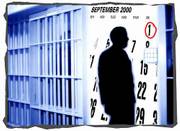 "I don't think freeing up bed space is necessarily going to be good for the local communities," Tonkovich said.
But that's what will be happening by Sept. 1, when the first wave of criminals is set free.
The law works by shortening the probation period for many nonviolent offenders. Those who have been sent to prison on a probation violation will be released by Sept. 1.
And those who violate their probation in the future won't be sent back to prison -- at least not automatically. They will be assigned to community corrections, a more intensive version of probation.
Tonkovich said officials use the threat of prison to ensure that offenders comply with terms of their probation. The new law works against that, she said.
"If you basically tell these individuals, 'You're going on probation and there's almost nothing you can do to go to prison,' that deterrence is gone," she said.
"If you can't make it on probation, I think you should go to prison."
Douglas County officials are working to limit the impact of the new law. District Judge Michael Malone has ordered a review of all affected cases -- and some offenders may not have their sentences reduced.
Why do it?
The problem, prison officials say, is the state can neither house -- nor afford to house-- every probation violator in prison.
Bill Miskell, spokesman for the Kansas Department of Corrections, said that on Thursday, the state prison system was holding 8,802 inmates. Its capacity is 8,877.
The new law was the result of a compromise to address the space problem.
Charles Simmons, corrections secretary, this year asked legislators for money to build two new cell blocks at El Dorado Correctional Facility to hold 100 prisoners each. Instead, they asked him to find another way to put up criminals.
The compromise was this: The corrections department will build a new cell block to hold 100 prisoners at Ellsworth. And the new law is to clear many nonviolent offenders out of prison -- or, if they were recently released, take them off parole.
"What we are doing is identifying the inmates and parolees who are going to be impacted by the provisions," Miskell said. "That's going to have a significant impact on both of those populations over the course of the next six months."
The result, Miskell said, is that 800 beds will be freed to house more violent offenders in Kansas prisons. The people being released aren't as dangerous.
"Bottom line is that these are folks ... who were sentenced to probation initially," he said.
He wouldn't speak about the possible impact on communities.
"As far as the department's concerns about the effects -- these are policy decisions by the Legislature that the department is implementing," he said.
Here on the ground
Malone, however, said the law was "unnecessary." Douglas County offenders who deserve early release from probation get it.
"If we chose a two-year probation, then we made a judicial decision that was the appropriate amount of time," he said. "Now that's being shrunk.
"We don't keep people on probation who don't need to be on probation. That would be counterproductive."
In the Lawrence area, court officials are first reviewing the cases of offenders whose probation would end when the law takes effect Sept. 1. Those reviews are due by July 12.
"We need to look at all of them to see if we believe the sentences should remain unchanged," Tonkovich said.
Malone also has ordered a review for all offenders whose shortened probation ends after Sept. 1.
Linda Koester-Vogelsang, court administrator, said probation officers still were determining how many offenders -- there are more than 1,000 in Douglas County -- might qualify for early release.
"We're believing it will be a significant number," Malone said. "But we don't have an exact number."
Each review, according to Malone's order, should include "any special concerns regarding public safety or welfare of the probationer."
All reviews will be sent to prosecutors and the sentencing judge. After that, prosecutors, the judge or other "interested parties" -- perhaps probation officers, Koester-Vogelsang said -- can bring a hearing to argue against the shortened probation.
Even without the hearings, release from probation won't be automatic in Douglas County. A judge must sign an order of release, and there could be conditions attached.
"Release from supervision does not relieve the defendant of the obligation to pay any restitution, costs, fines or (attorney's fees) imposed in the defendant's case," Malone wrote in what will be the standard release order.
Tonkovich said that victims would be notified when the offender in their case is released from probation.
Under the new law, if offenders succeed at neither probation nor community corrections, they can be sent to the county jail -- rather than prison -- for up to 60 days. That doesn't really solve the problem, Malone said, but it does shift a burden away from the state.
"All that is doing is, once again, placing more and more cost on the county," he said.
And Malone isn't sure the new law will keep offenders from going to prison -- it will just slow the process.
"It's been my experience if somebody can't follow the less-structured probation, they probably can't follow the more-structured probation," he said. "The practical effect is we'll probably have two revocation hearings instead of one."
Copyright 2018 The Lawrence Journal-World. All rights reserved. This material may not be published, broadcast, rewritten or redistributed. We strive to uphold our values for every story published.