The women -- young, old and middle-aged -- stroll into the room, filling the circular formation of seats.
One woman jokes that she just styled her hair. She's nearly bald.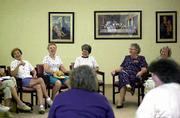 Another woman, wearing a hat to cover her own thinning hair, acknowledges her comrade's courage.
Across the room, a third woman stares into the distance with a worried look.
The meeting begins with news about a dying friend. There are stories of visits, the dying woman's latest condition and deciding who will cook the next meal for her family. Soon, the 20 women are sharing stories of doctors, chemotherapy and new treatments.
There are cheers, tears, laughter and plenty of listening.
This is "Bosom Buddies," a support group for women with breast cancer that serves as an integral weapon in the fight against the disease.
"This group was founded to provide support and education to survivors so that we can have more survivors while we are waiting for a cure," said Suzie Taylor-Meadows, 51, Lawrence. "We were concerned about the women who had breast cancer in this community who weren't getting support."
'Most trying time'
The 20-member crew meets for an hour each Monday evening at Presbyterian Manor, 1429 Kasold. Once a month, the women entertain a guest speaker: a doctor, minister, homeopathic healer, nutritionist and others who talk about living with anxiety and fear.
The group ranges from 27-year survivor Bev Temple to 37-year-old Jennifer Klopp, who was diagnosed nine months ago. The group was founded Jan. 6, 1997.
Although one of the women is now dying, the group boasts more survivors than casualties.
"In three and half years, we are losing our first member," Taylor-Meadows said. "This is our most trying time."
A diagnosis of breast cancer forces any woman -- no matter how strong -- to take a step back.
"It's paralyzing. It's surreal. You think it is a bad dream," Taylor-Meadows said. "It shakes you at the foundation of your soul."
New members often break down and cry at early meetings.
"People who've just been diagnosed often come in here and weep and then say 'sorry,'" Taylor-Meadows said. "We always say, 'Why are you sorry? We all did the same thing.'"
Meeting routine
Candi Baker, 54, Lawrence, was diagnosed last February and began attending meetings two months later.
"In the early days it was almost a necessity to get through everything," Baker said. "There is so much happening to you and you are so overwhelmed by it. The group was a place where I could share my fears, concerns and questions and felt so much support."
The women said it was reassuring to see a room full of women who have survived or are facing the same battle.
"It really gives me a lot of information," Klopp said. "A lot of women have gone through the treatment already. It helps me to know what to expect because it is really scary."
Each meeting begins with introductions and condition updates. The group cheers for women celebrating cancer-free anniversaries, sympathizes with members facing chemotherapy or other forms of treatment, and listens to personal stories about children, work, weddings and trips.
"We are there for each other in good times and bad," Taylor-Meadows said.
Unmatched support
Most of the women have the support of their families, but Bosom Buddies offers a different type of assistance.
The women share medical tips, talk about new treatments, give doctor recommendations and talk in detail about what they've experienced.
"With your friends and family you can't talk as frankly and honestly," Taylor-Meadows said. "This is the place to come."
Taylor-Meadows compared the experience to any major life transition.
"It is sort of like parenthood; you can think what it is going to be like to be a parent but until you have that baby home from the hospital and you are up all night long with a screaming baby and completely responsible for this human being, you don't know how it feels," Taylor-Meadows said.
Men are welcome in the group as well. Cliff Wallace, 66, the husband of Carol Wallace, 66, regularly attends meetings. Wallace said as many as five or six husbands join in.
"She could easily come by herself," Cliff Wallace said. "But it is really important to provide support."
Statistical reinforcement
Research shows that support groups such as Bosom Buddies can aid in cancer survival.
Stanford professor Dr. David Spiegel published "Living Without Limits," a book that showed cancer patients in support groups live longer and enjoy greater quality lives -- less anxiety, less depression and half as much pain -- than those who went through medical treatment alone.
The research focuses on the importance of putting care back into health care.
While medical treatment can lack the personal touch, support groups provide women with a caring web.
Mary Moody leads a breast cancer support group at the Kansas Cancer Institute at Kansas University Medical Center, Kansas City, Kan. She said most cancer care centers around the nation include support groups.
Research has shown that the body responds better to treatment when patients are educated and supported, Moody said.
"From my experiences I see the women benefit from sharing a mutually trying time in their lives." she said. "My experience is that women find support groups a safe environment to express concerns and draw support from one another."
Compassion, trust
Bosom Buddies has become an important weekly activity even for women who are now cancer-free.
"These women have been through what I've been through," the cancer-free Baker said. "I love to come here and be with these women and be there for them when they go through something."
A new group for younger women with breast cancer has been started by Klopp and Robin Brown. The group is designed to aid women who have children or are still employed. The group meets once a month.
Klopp said both groups are open to women with any kind of cancer. She wants all cancer victims to have an opportunity to experience the same friendship that has aided her.
"It gives you a lot of hope," she said.
Copyright 2018 The Lawrence Journal-World. All rights reserved. This material may not be published, broadcast, rewritten or redistributed. We strive to uphold our values for every story published.