Government offices and public services in Lawrence and Douglas County will be closed Tuesday in observance of the Fourth of July.
Offices also will be closed in most area towns and counties. Franklin County offices will be closed Monday and Tuesday.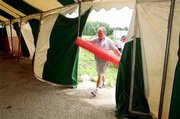 All city, county and state offices will be closed Tuesday, as will federal offices in the General Services Administration and the federal courts.
The July 4 city commission meeting is canceled and area banks will be closed.
Lawrence Bus Co. will not run its regular day routes Tuesday, though it will provide free shuttle buses from downtown parking lots to the city fireworks display at Burcham Park. The shuttles, sponsored by the Journal-World, will start running at 7 p.m. and travel along 11th, New Hampshire and Vermont streets. The buses also will be available for return trips after the fireworks display.
City of Lawrence residential trash pickups, other than Monday grass clipping pickups, will be one day late. The Parks and Recreation brush collection site at 11th and Haskell streets will be open from 10 a.m. to 4 p.m. today. County residents should contact their trash collection services to check holiday scheduling.
All Parks and Recreation classes are canceled July 4, and all recreation centers will be closed. The Lawrence Aquatic Center will be open from 12:30 p.m. to 9:30 p.m. Monday and 12:30 p.m. to 8 p.m. Tuesday.
Douglas County Senior Services has canceled all Tuesday activities, including the Adult Day Program and the noon meal. Home deliveries will not be made. Meals on Wheels will deliver meals according to its regular schedule. The Lecompton Health Screening Clinic for People over 60 is canceled.
The Lawrence Public Library will be closed Tuesday.
Tuesday classes at Kansas University are canceled, and campus offices and study facilities will be closed.
The postal service won't make regular deliveries Tuesday, although special delivery and Express Mail deliveries will be made. Mail pickup from collection boxes won't be made as posted on individual boxes. All United Parcel Service operations will be closed.
The circulation office at the Journal-World will be open for walk-ins and phone inquiries from 4:15 a.m. to 10:30 a.m. Tuesday. The advertising office will be closed.
USA Today won't be delivered Tuesday.
Copyright 2018 The Lawrence Journal-World. All rights reserved. This material may not be published, broadcast, rewritten or redistributed. We strive to uphold our values for every story published.