The same weather that sapped the quality of this year's wheat harvest helped pump up the quality of the sweet corn crop.
Just in time for Independence Day.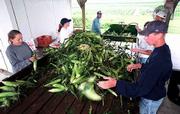 "The hot, dry weather we had was perfect," said Mary Ross, a partner in Bismarck Gardens, 1616 N. 1700 Road. "We've got corn for the Fourth of July. Everybody wants some corn on the Fourth of July."
Bismarck Gardens began selling bags of sweet corn Monday, the farm's earliest start since it entered the retail corn business 18 years ago.
The business, at a farm north of town, has drawn about 200 customers a day since Monday.
Ross expects to harvest nearly 300,000 ears of the sweet corn this year, to be sold by the baker's dozen through the first week of August.
A relatively warm, dry spring convinced the corn to grow roots deep into the soil, producing sturdy stalks, said Kent Nunemaker, a partner in Bismarck Gardens. Rains arrived late in the season, too late for wheat just in time to fill out kernels of the popular corn.
"It's all high quality," he said.
Bill Wood, agriculture agent for K-State Research & Extension in Douglas County, said county farmers planted about 80 acres of sweet corn this year, up a bit from recent years, to meet increasing demand.
Bismarck Gardens, 1616 N. 1700 Road, 842-4360. Free State Farm, 1431 N. 1900 Road, 841-1265. Mark Pine's Garden, 1741 E. 1500 Road, 841-8430. Pendleton's Country Market, 1446 E. 1850 Road, 843-1409. Riverside Gardens, 1565 N. 1620 Road, 843-7435. Strong's Produce, 1919 N. 1500 Road, 542-2620.
"Our population is growing, we're in an urban area and people like to go out to the country and get corn," Wood said. "It's going to grow. We're going to have more people wanting it."
The 28-acre sweet corn operation at Bismarck Gardens represents only a small part of the overall Nunemaker-Ross Farms, which has a total of 2,400 acres of row crops. Field corn the kind grown for feed covers nearly 1,200 acres.
"This fills a niche for us," Ross said of the sweet corn business. "After we get the row crops in, this keeps us busy."
Copyright 2018 The Lawrence Journal-World. All rights reserved. This material may not be published, broadcast, rewritten or redistributed. We strive to uphold our values for every story published.