Six model trains, two whistles and 175 feet of railroad tracks have brought three generations of a Lawrence family closer this holiday season.
In the basement of Phil Gaus Jr.'s home, there's a model train track that goes back 45 years in family history.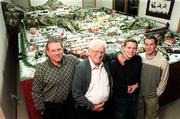 When Gaus was growing up in California, he and his brother would help their father construct an elaborate railroad scene each Christmas.
One year, it took up so much of the living room that the family had to open Christmas presents in a bedroom, Phil Gaus Sr. said.
The men kept up the train tradition for 17 years before Phil Jr. left home. This year, with the whole family in Lawrence, Phil Jr. decided to share the trains with two of his sons, David and Michael.
"I wanted these guys to do it," Phil Jr. said, "and Dad to see it again."
At 15 feet by 22 feet, the model cityscape takes up the better part of the Gaus basement. Train tracks wind through three mountain ranges on four different levels. Below the mountains lies a working town, complete with farmer's market, newspaper office and church. Handmade billboards advertise MasterCard and the TV show "Wiseguy."
Phil Jr. and his sons painted the entire plywood tableau green for the landscape, then added highways and streets. The road markers and even individual parking-space lines all were painted on by hand.
The Gaus train track features three mechanical loading docks that transfer logs, barrels and cows from the train cars to holding pens and back again. The "Plasticville" train station has an automated voice that announces departures via an old phonograph record.
Phil Jr., Michael and David started the project on Labor Day weekend. They finished in mid-December.
They used the same train pieces from the original Gaus railroad. All of the pieces are American Flyer, a line that's been discontinued for years.
"You can't buy any of this any more. There aren't any spare parts," Phil Jr. said. "If it stops working, it stops working."
For the teen-age boys, the train taught hands-on lessons in wiring, woodworking and mountain-molding.
"We'd never seen anything like it before," David said. "We had to imagine laying the track and imagine a whole village. It was pretty hard to visualize."
For Phil Sr. and Phil Jr., it was a welcome visit to the past.
Phil Sr. said it was especially meaningful to his wife, Kay, who would give her husband and sons full control of the house years ago.
"She was all for it," he said.
"It brings back a lot of memories," said Phil Jr. "The trains were something to look forward to every Christmas."
Copyright 2018 The Lawrence Journal-World. All rights reserved. This material may not be published, broadcast, rewritten or redistributed. We strive to uphold our values for every story published.