Jerusalem — Israeli and Palestinian officials issued tough statements Friday rejecting essential parts of President Clinton's proposal for further peace negotiations, a development that appeared to sink Clinton's effort to renew talks.
While neither side declared formally that it was rebuffing Clinton's overture or refusing further talks, Prime Minister Ehud Barak and a top aide to Palestinian leader Yasser Arafat each rejected Clinton's reported proposals for compromise on their claims to mostly Arab East Jerusalem, with its holy sites, and on the issue of Palestinian refugees being permitted to return to Israel.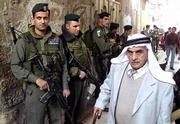 Whatever the two sides' formal willingness to talk further, their positions taken Friday appeared effectively to bar progress for now along the path suggested by Clinton. The declarations were the culmination of a week of anguished infighting on both sides in the conflict, sparked by the U.S. proposal for specific compromises on the two most sensitive issues of the dispute Jerusalem and Palestinian refugees.
The apparent foundering of the U.S. plan came as new fighting in the West Bank and Gaza Strip continued to favor conflict over peacemaking. A Palestinian policeman was killed in Gaza after a heavy gun battle that included Israeli tank fire.
Barak's statement, in an interview with Israel's Channel Two television network, was a clear retreat from a more conciliatory posture taken by his cabinet on Wednesday. The government then said Clinton's plan could be "a basis for discussion" of the final issues in a peace accord if only the Palestinian side agreed to them as well.
Friday, Barak declared that his government "will not accept any agreement in any form that will recognize ... the right of return (of Palestinians who formerly lived in what now is Israel). Period. ... I do not intend to sign any document that will transfer sovereignty over the Temple Mount to Palestinians."
The Temple Mount, called the Haram al-Sharif, or Noble Sanctuary, by Palestinians, is revered as sacred both by Jews and Muslims.
Arafat's adviser, Nabil Abu Rudainah, issued a statement that was nearly a mirror image of Barak's. "We will not sign on any agreement that does not give Palestinians full sovereignty over Jerusalem, the Haram al-Sharif and all other Islamic and Christian holy sites," he said. And he rejected any compromise on the return of Palestinian refugees.
Copyright 2018 The Lawrence Journal-World. All rights reserved. This material may not be published, broadcast, rewritten or redistributed. We strive to uphold our values for every story published.