Ask 10 different Lawrence merchants how they fared during the Christmas shopping season, and you'll get 10 different answers and as many opinions why.
As shoppers filled the stores again Tuesday, exchanging gifts and looking for after-Christmas bargains, Lawrence-area merchants were taking stock. Most said sales were as good as the 1999 season or slightly better. A few said sales were down.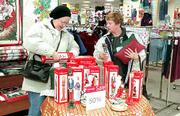 Some blamed the stock market. Others, the weather. And still others said the weather helped them.
"For every theory," said Earl Reineman, vice president at Weaver's Department Store, "you'll get an equal and opposite theory."
Nationally, the weekend's sales were strong but not enough to offset slumping sales for most of the month.
Federated Department Stores, Wal-Mart and the jeweler Zale Corp. warned Tuesday that revenue for December would fall below expectations.
The bigger question is what the weaker-than-expected Christmas will mean for the economy. Consumer spending accounts for about two-thirds of the nation's economic activity, and holiday sales typically represent 25 percent of retailers' annual sales.
"A weak Christmas is a precursor of next year's economic performance," said Michael Niemera, vice president of the Bank of Tokyo-Mitsubishi Ltd., who on Tuesday reduced his holiday sales forecast to a 3.5 increase, from 4 percent.
He added: "I think we are going to see more problems ahead for 2001, with store closings and liquidations."
Reineman said Weaver's, 901 Mass., had a strong Christmas season. "I would predict it will be one of the better ones that we've had," he said.
Unlike most other merchants, Reineman counted December's single-digit temperatures and snow as a blessing.
Buying coats, gloves
"The weather helped more than it hurt," he said. "When the bad weather would hit, it would hold down business for half a day. Then people would think, 'Wow, it's cold! I'd better get some shopping done, get a coat or some gloves.'"
Merchants were braced for soft sales, with the stock market slumping and talk of a coming economic downturn. Many now are pinning their hopes on post-holiday sales. The seven days after Christmas could account for anywhere from 11 percent to 15 percent of holiday sales, according to analysts.
For their parts, Tuesday's bargain-hunters in Lawrence said they paid little attention to the gloomy forecasts.
"We weren't really thinking about it," Martin Ross said as he lugged a shiny new sled down Massachusetts Street.
"It's been a solid year for me, so I had no reason to worry. I think it's just retailers crying about not getting 6 or 7 percent growth."
Richard Chappelle, store manager at Wal-Mart on South Iowa Street, agreed.
"It's been a lot better Christmas than we expected, with all the doom and gloom we've been hearing from forecasters," he said. "But it turned out very well for us."
'A big slowdown'
But one downtown merchant, who asked not to be identified, blamed the economy for slumping sales.
"Christmas wasn't as good this year as last," he said. "We had a big slowdown starting in November. It's just people don't feel as flush this year."
Weather in the form of Monday's overnight snow was a factor in post-Christmas shopping.
"We started off a little bit slow because of the snow," said Mark Ryan, senior merchant at SuperTarget. "But it's picked up and we're doing better than average business."
Downtown businesses seemed to do well. Although it was easier to find a parking spot on Massachusetts Street than in the weeks before Christmas, most people walking up and down the street were carrying shopping bags.
Susan Taylor, in town to celebrate the holidays with her in-laws, carried three bags filled with presents for her family's celebration next week. She was thankful for the chance to shop after the holiday.
"There's bargains," she said. "I don't have to bump into as many people. And I can leave my husband and child at home."
The Associated Press contributed to this report.
Copyright 2018 The Lawrence Journal-World. All rights reserved. This material may not be published, broadcast, rewritten or redistributed. We strive to uphold our values for every story published.