A small army of volunteers and hundreds of Lawrence residents showed up Monday for the seventh annual Community Christmas Dinner.
Though event organizers don't formally line up volunteers in advance of the dinner, served in the Fellowship Hall of First United Methodist Church, 946 Vt., there's always a surplus of people willing to help when it's time to cook, serve and deliver the free meals.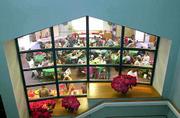 "We don't really enlist volunteers. People just show up every year. Sometimes, we have more than we need, but they get mad if we don't give them something significant to do," said Brower Burchill, a longtime volunteer at the community dinner.
Each year for the last several years, event organizers have served from 500 to 550 meals to those attending the dinners at the church or requesting meals be delivered to their homes.
Organizers line up free rides to the church for those who want to participate in the dinner but need transportation.
The dinner turkey, ham, mashed potatoes, sweet potatoes, dressing, gravy, relish and cheese trays, vegetables, rolls, pies and punch was served from 11 a.m. to 3 p.m. By 1 p.m., volunteers had already delivered 240 meals to homes and served about 200 meals at the church, according to event organizers.
"We've had more deliveries this year than usual, probably because people don't want to come out in the cold," said Deb Engstrom, a volunteer who arranged home deliveries and lined up rides to the church for those who needed them.
John Thompson, a cook at Free State Brewing Company, 636 Mass., prepared the turkey, ham and mashed potatoes.
Everyone who received a meal, either at the church or in their homes, was offered one of the nearly 300 poinsettias donated to the event by Sunrise Garden Center, 15th and New York streets.
Ron Hesler, 34, Lawrence, seemed pleased with the spread of food at the church.
"I came here to work, but by the time I woke up today, everything was already cooked. The turkey and the gravy and the potatoes and all the fixings are great. They taste just about as good as homemade," Hesler said.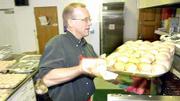 The Paper Warehouse, 1441 W. 23rd St., donated the paper and plastic products used at the event. Lawrence Memorial Hospital loaned chafing dishes and a steam table.
"I don't know how we'd do this, and keep the food hot, without them," Burchill said. "The community support is incredible."
Burchill wants to get the message out that the community dinner is for everybody, whether you need a hot meal or not.
"It's for anyone who wants some company on Christmas," he said. "You don't have to volunteer, though we would love it if you did. Just come with your family and participate."
Copyright 2018 The Lawrence Journal-World. All rights reserved. This material may not be published, broadcast, rewritten or redistributed. We strive to uphold our values for every story published.