The first time he tried it, Serge Poborka was sold on the concept of never having to write a check to pay a bill.
"I do get tired of writing checks, putting them in the mail and wondering if they got there," said the Brighton, Mich., resident, who works at Paccar Inc. in Farmington Hills, Mich. He began using the bill-paying service offered through TCF Bank several months ago to pay his mortgage and home-equity line of credit.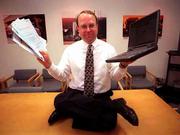 Now Poborka is one of millions of American consumers taking advantage of online bill-payment services offered by a number of companies, including financial institutions, the U.S. Postal Service, Yahoo! and Paytrust.
The service allows consumers to click, not lick, to pay such bills as cable, telephone, utilities, baby-sitters and credit card companies. The money usually is transferred directly and electronically to the payment recipient.
While the concept has been around since 1980, it has been slow to catch on with consumers until now. Dataquest, a research firm based in San Jose, Calif., expects more than 13 million consumers to be using online bill-paying services by 2004. Paytrust, an online bill-paying and bill-delivery service, estimates that 4 million to 5 million people currently use the service.
The service means never having to search for a stamp, taste envelope glue or scramble to the post office to meet a payment-due date. Users log onto a bill payment service provider, enter the bills they want paid and the account the money should taken from and then submit their request.
Some services even offer to post the billing statements electronically. An e-mail notification is sent when a bill is due and guides the payer to a Web page displaying a copy of the billing statement.
For Poborka, one of the initial drawbacks to the service was the time it took to set up his monthly recurring bills for online payment.
"It might be more time-consuming to set it up than to just write a check," he said. "But I do want to get to a point in the future where I pay everything online." He means everything that is a recurring bill. He still likes to write checks for church donations because he prefers to have the paper trail for income tax purposes.
Cutting down on paper
Companies like the service because it reduces the cost of generating paper bills. It costs a company roughly 85 cents to $1.50 to send out a statement, said David Fontaine, spokesman for CheckFree in Atlanta, which provides electronic payment processing. Electronic billing costs about 40 cents a statement, he said.
"It might be more time-consuming to set it up than to just write a check. But I do want to get to a point in the future where I pay everything online."
Serge Poborka
So who pays for the service? Both consumers and companies. Companies can partner with the service providers to offer the service on their Web sites. For example, a bank might contract with CheckFree to run the bill payment service at the bank's Web site. And individuals also pay a monthly fee for the service.
It's a time-saver
Users of the service enjoy the time they can save.
Harris Interactive Inc., an Internet research firm, estimates that Americans spend an average of five minutes paying a bill by check, or a total of two eight-hour workdays a year just processing paperwork.
"The convenience is definitely there," Poborka said. "I get the security of knowing the payment went through. I can pay bills anywhere I am since I travel a lot, and I don't have to worry about payments getting there through the mail."
TowerGroup, a Needham, Mass.-based researcher, estimates that bills received and paid electronically would total 20 million this year, up from 10 million in 1999. The company projects that number will surge to 2 billion in 2005.
Internet has ups, downs
Online bill payment has its share of benefits and drawbacks. The most obvious drawback is that the service benefits only individuals who have a computer with Internet access. Also, users can be constrained by their modem speed or be unable to pay bills online if a network crashes or if the Internet connection fails.
The savings depend on how often an individual uses the service.
Research estimates show that the average household pays about 200 bills a year. With first-class postage rising to 34 cents in January, that's about $68 to mail those bills each year, not including the cost of envelopes and checks.
While many online bill-payment providers offer a free trial period, the monthly fee can range from $2.95 to $29.95 for 20 or more electronic payments a month, or $35.40 to $359.40 a year. Individuals need to weigh the number of bills they would pay online against the cost of postage and checks.
"I haven't done a cost-benefit analysis yet, but I would think the cost would almost be a wash," Poborka said. TCF Bank charges $5.95 a month for 10 online payments. Additional payments cost 40 cents each.
While bill payers can opt for direct payment, a similar automatic-payment service that automatically debits a bank account when a payment is due, that service doesn't offer the same control as online bill payment.
People who want to see their monthly bills or physically submit the payment via computer can do so with online bill payment. In addition, individuals can use online bill payment to change the date of the payment, make partial payments or adjust each payment.
Another disadvantage of online bill payment is the lag time if the recipient is unable to accept electronic payments. CheckFree still issues paper checks for about 40 percent of the bills it handles because the recipient cannot process e-pays. In addition, it can take two to 10 days for the paper check to reach a company.
Copyright 2018 The Lawrence Journal-World. All rights reserved. This material may not be published, broadcast, rewritten or redistributed. We strive to uphold our values for every story published.