Imagine a single card that lets you purchase and download an airline ticket using your PC. That same piece of plastic also could pay for a restaurant lunch, open secure doors at the office or check out books at the library. It even could become your car keys.
Sound like a script from the Jetsons? Not really.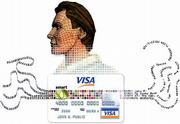 Such is the promise of smart cards, the wallet-sized plastic cards with embedded microchips that major U.S. credit card issuers are rolling out in a big way during the next few months, after gauging use in dozens of test markets.
Kansas University, for example, has issued "smart" identification cards since 1998, giving more than 30,000 students, faculty and staff the ability to store money on cards for use in campus vending machines, library photocopiers and residence hall laundry machines.
"It's unequivocally been a success," said Carl Bradbury, debit card manager for Commerce Bank in Kansas City, Mo., which partners with KU for the magnetic-strip portion of the ID cards.
The bank is considering getting into the chip business, too.
"Students are using it," he said. "They're using it to make purchases. They are, in effect, being trained to take the next step. They will migrate from the magnetic stripe to the chip later on, and we are learning right along with the students."
Smart cards, albeit with limited uses, have been popular for years in Europe and parts of Asia and Latin America. The industry says it has shipped more than a billion a year since 1998.
In lieu of coins, the cards are widely used for pay phones. In some types of cell phones, they're used for security, billing and storing frequently used numbers. The financial sector also likes them: In France, every Visa debit card has an embedded chip.
But despite pilot projects such as KU's, smart cards never have been a commercial hit in the United States. For U.S. card issuers, there's been inadequate financial incentive while retailers have shown little interest in acquiring new card readers to replace the magnetic-only variety.
Some financial powerhouses are betting they can change that now. As first adopters, they're banking on grabbing many of the estimated 35 million online shoppers almost double that of last year who are looking for secure ways to shop and add value with exclusive discounts and other promotions.
Online security incentive
In September, Visa U.S.A. teamed up with three of its top 10 credit card issuers First USA, Providian Financial Corp. and Fleet Boston Financial Corp. to offer a suite of services led by secure online purchasing. To entice consumers, they throw in free PC card readers and tout introductory rates as low as 0 percent with no annual fee.
Meanwhile, MasterCard, for whom big markets include Brazil and Japan, announced this month that it would be introducing its own smart card in the United States beginning next month offering secure identification as well as credit and debit functions to begin with.
Microsoft, predictably, also is in the game. Software for smart card readers is included in its Windows 2000 operating systems.
The incentives for the credit card industry are great.
First, chipcard use could reduce considerably the $1.09 billion that credit card companies annually lose to fraud, according to the Nilson Report, an industry newsletter. And with the per-unit cost now down to $3, compared to $12 a year ago, the cards now are much more economical to deploy widely.
Though smart cards initially are expected to be used commercially in the United States as little more than secure electronic purses and ID cards, experts predict voluminous uses starting next year.
Thanks to the improving power and versatility of microprocessors embedded in the cards, consumers will be able to do more than better protect themselves against online fraud as they bank or trade stocks.
The cards also will be able to store digital cash, personal information, Web site passwords and addresses, plus loyalty coupons from merchants or frequent-flyer points.
KU tests public reaction
As circuits on the cards are upgraded to hold more memory and functionality, cardholders eventually may be able to store everything from driver's license information to medical insurance data and monthly rail or bus commutation tickets all on a single card.
Such uses haven't come to KU yet, as university officials take a wait-and-see approach to gauge public sentiment.
The 50,000 cards issued by KU thus far have been limited to serving as "stored-value purse," said Nancy Miles, administrator for the KU Card program.
Cards could be used in the future to note class attendance, or to verify current enrollment at the university, she said. But for now, at least, privacy concerns outweigh any desire to expand the chip's reach.
"It's just going to take some time," Miles said. "People want to be convinced that it provides a service and adds value to their lives."
Visa's move comes on the heels of the September 1999 launch of American Express' Blue.
The chip-embedded card allows consumers to transfer credit card information securely online with the help of a card reader.
By year's end, American Express expects to sign up 4 million users.
Sales to 'skyrocket'
"We're seeing some enormous steps forward," said Donna Farmer, president and chief executive officer of the Smart Card Forum, a not-for-profit association largely financed by membership dues from 200 corporations and universities.
Worldwide sales of smart cards are expected to skyrocket to $8.1 billion by 2004, from $2.4 billion this year, with about 40 percent to 50 percent of that growth from the United States, according to Dataquest, the research arm of Gartner Group.
In the Visa rollout, each of the three issuers carefully set themselves apart with different features:
Fleet Boston's Fusion cobalt blue card comes with some applications built in including payment, digital identification and secure Web purchasing, according to Jay Lee, senior vice president of EBusiness Strategic Development for Fleet.
Customers won't be able to download coupons or participate in other loyalty programs until the first half of 2001. Later, the cards could be customized for uses including the storage of airline frequent-flier miles.
First USA's card has software that allows customers to load personal information onto the card to enable secure and faster online ordering.
"We are looking at the customers' needs and developing programs accordingly," said Jeff Uncle, first vice president of corporate affairs.
Providian's clear card enables customers to immediately secure online transactions. By mid-2001, the cards will be able to download e-coupons and eventually track various discount coupon programs with merchants.
"In the beginning, it will be similar, but as the technology changes consumers will start to see differences," said Alan Elias, vice president of corporate communications.
---
MORE: www.scia.org/default.htm;
Copyright 2018 The Lawrence Journal-World. All rights reserved. This material may not be published, broadcast, rewritten or redistributed. We strive to uphold our values for every story published.