New York — Once Hillary Rodham Clinton begins her $8 million memoirs, she might follow any number of paths.
She could write a confessional book, like Betty Ford's "The Times of My Life." She could settle scores, like Nancy Reagan or Edith Bolt Wilson. She could tell a comprehensive story, like Rosalynn Carter's "First Lady From Plains," or attempt a serious, instructive memoir, like "The Autobiography of Eleanor Roosevelt."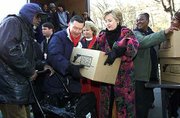 Whatever she does, Mrs. Clinton will continue a genre few could have imagined a century ago. First ladies were once expected to keep their stories to themselves. Now, their memoirs are so popular they often outsell their husbands'.
"Until the 20th century, there was a certain degree of ambivalence about whether first ladies should reveal their roles in the administration and the degree they exercised power," said Carl Sferrazza Anthony, whose books include "America's First Families" and a two-volume history on first ladies.
"But now their memoirs are greatly valued for at least two reasons. They're probably the most revealing published documents on the personalities and characters of the presidents. Secondly, they give you the fullest perspective on the president in the context of a family."
Since Betty Ford, every first lady has told her story. Mrs. Clinton's immediate predecessors, Barbara Bush and Nancy Reagan, each reportedly got $2 million advances and their memoirs sold better than any book by their husbands.
Julia Dent Grant, widow of the 18th president, is thought to be the first presidential spouse to attempt a memoir. But her price proved far too high. Inspired by the great commercial success of Ulysses Grant's autobiography, she wanted $125,000, a figure too rich even for her friend Andrew Carnegie. Mrs. Grant's book did not come out until the 1970s.
The first to publish in her lifetime was Helen Herron Taft, whose "Recollections of a Full Life" came out in 1914, two years after William Howard Taft was voted out of office. Eleanor Roosevelt is the only first lady to tell her story while her husband was still president.
Just how much Mrs. Clinton will have to say about her husband's affair with Monica Lewinsky is not clear. The book is due in 2003. Mrs. Clinton will be a U.S. senator and a possible presidential candidate, hardly someone who would want to remind the public of past trials.
"I think she'll be candid, but private, if such a thing is possible," said Ashbel Green, an editor at Alfred A. Knopf who met with the first lady but declined to join the bidding war. "I think she'll write a very good book. She's very impressive. She's obviously got a very good mind."
Copyright 2017 The Associated Press. All rights reserved. This material may not be published, broadcast, rewritten or redistributed. We strive to uphold our values for every story published.