Christmas Eve usually is the biggest day for Salvation Army bell-ringers as crowds of last-minute shoppers in the holiday spirit dig deep to help the less fortunate.
But Christmas Eve this year falls on a Sunday a day the Army's bells don't ring in observance of the Christian Sabbath.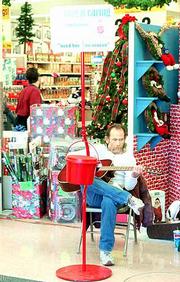 That worries Lawrence Salvation Army officials, whose holiday fund-raising campaign already has been hit by extremely cold weather that's kept people at home and away from dropping donations into the ubiquitous kettles.
"The kettles are running $12,000 behind where they should be," said Lt. Carolyn Schuetz, corps officer with the Salvation Army in Lawrence. "We have to meet our goal by Saturday."
Even with winds reduced Thursday, turn out was still slow, said one bell-ringer.
"It has its slow waves," said Donny Blasingame, who was standing inside the Dillons store on 23rd Street. "Some days it's good. Some days it ceases. I think the weather has a lot to do with it."
Last week, when the campaign was expected to be raising $2,000 a day, it only brought in $680 on Monday and $900 on Wednesday.
"I don't think it's a lack of giving," Schuetz said. "I just think it's lack of good weather."
In addition to encouraging people to give a little bit more, Schuetz recommends those receiving the Salvation Army mail appeal place their donations in the kettles instead. That way, the money will reach the Army faster. Contributions can be sent to the Salvation Army, P.O. Box 1177, Lawrence 66044.
Salvation Army programs include the social service office, which helps families with rent, utility and food assistance, a basketball program and a noon feeding program. The center also sponsors a winter emergency shelter.
Copyright 2018 The Lawrence Journal-World. All rights reserved. This material may not be published, broadcast, rewritten or redistributed. We strive to uphold our values for every story published.