Brian Daldorph, editor of the regional journal "Coal City Review," is always on the lookout for new writers. But this time he ventured into the past way into the past to come up with a writer whose own life story makes for a good tale.
"It's really quite a treasure," Daldorph says about "Sadie," a short story written by Clark Wakefield in 1902. That's right, 1902. It's now one of the featured short stories in the latest edition of the review.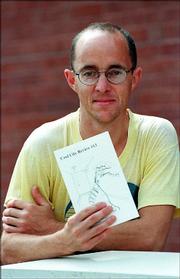 The annual publication prints poetry, prose and literary reviews, along with illustrations and photography. It primarily features poetry, and more than 60 national and international contributors filed the material for this 15th edition. But that is only a fraction of the literary transcripts Daldorph sorts through during the year.
Along with his job as an assistant professor of English at Kansas University, "Coal City Review" keeps Daldorph busy as a writer and editor. The publication is printed by the university.
"It takes me about a year to deal with the submissions and artwork and producing and editing it. That gives me a lot of time to think about what's in it," he says.
And only 1 percent of submitted material makes it into the prestigious journal, Daldorph adds.
He will feature three short stories, poetry, reviews and photography in this edition, but it's "Sadie" that is garnering all the attention. Wakefield was an associate of Mark Twain when he first showed the legendary writer "Sadie" and asked for his opinion. According to Daldorph, Twain was a fan of the tale but encouraged Wakefield to shelve it because it dealt with the controversial subject matter of prostitution. Twain felt no publisher would ever print the story.
Wakefield did not submit it for publication, and then he died in 1905 from typhoid at age 24. His family kept the story in the household through the 20th century. An old graduate school friend of Daldorph's convinced the family to let the "Coal City Review" print the nearly 100-year-old tale. An introduction explaining the long stretch between the writing and publication will accompany the piece.
Aspiring writers can rest assured that they won't have to wait until they are dead before Daldorph will consider them for the review. So what does it take to get his attention?
"I'm looking for strong, direct, engaging voices," he says. "I like strong images brought particularly into poems."
Submissions may be sent to "Coal City Review," care of Brian Daldorph, English department, Kansas University, Lawrence, Kan. 66045.
Copyright 2018 The Lawrence Journal-World. All rights reserved. This material may not be published, broadcast, rewritten or redistributed. We strive to uphold our values for every story published.