Those who know and love Kenny Gregory wonder what kind of reception he will receive Saturday back in his hometown Columbus, Ohio.
"I'm sure some people still do not care for the fact he did not go to Ohio State. You still hear a comment here and there that he should have stayed home and all that stuff," says Dave Feyh, Gregory's coach for four years at Columbus' Independence High.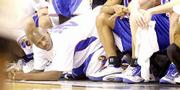 "But Kenny has gone out and represented Columbus in a positive manner. I'm sure the majority of people are proud of him and will wish him well."
Feyh, his wife, and at least 30 of Gregory's closest family members and friends have tickets for Saturday's KU-Ohio State game at OSU's Value City Arena.
They, of course, will cheer wildly for Gregory, who chose Kansas over Ohio State, Clemson, Kentucky and Cincinnati four years ago in recruiting.
The big question is: How will the pro-Buckeye crowd of 19,100 react to Gregory's appearance? He scored 17 points with five rebounds in KU's 80-67 victory over the Buckeyes last December in Allen Fieldhouse and is 2-0 versus OSU in his career.
"I think most will greet him warm and friendly," Gregory's mother, Emma, said from her and husband Gomas' house, which is a 15-minute drive from the OSU campus. "I don't think it'll be bad at all. If it is, we'll just cheer louder. We're all really excited to have Kenny home for this game."
The easy going, quick-to-smile Gregory said he's expecting the best, not the worst.
"I could be wrong, but I think it'll be totally different from Ryan's situation. I think I'll be accepted well," said Gregory, recalling the days ex-Jayhawk Ryan Robertson of St. Charles, Mo., was booed unmercifully while playing against the University of Missouri in Columbia, Mo. "I've always spoken highly of Columbus and Ohio State's program and made positive comments about Ohio State."
Indeed, Gregory has nothing but positive things to say about his roots.
He's dying to get back for the holidays.
"A lot of people think it's a small town. It's a big city," Gregory said of Columbus, the 16th largest city in the country with a population of 680,000. "There are a lot of malls, places to eat.
"I was telling Drew (Gooden) the other day I can't wait to get back and get sausage and pepperoni (pizza) at Donatos (restaurant). Maybe he'll get some, too," he added with a grin.
High school hero
"It's always great to be home. I don't have to travel. I'm going to be home right after that game. That's really nice."
KU senior Kenny Gregory on playing at Ohio State
Gregory's most vivid memories of Columbus would have to be his high school days when he led Independence High to city titles during his sophomore and senior seasons.
Fans packed gyms to watch the high-flying, 6-foot-5 Gregory dunk the basketball.
"I guess I was trying to be a showman at times," Gregory said. "But the reason I did dunk a lot is a lot of times I was out of position, playing down low."
Independence coach Feyh remembers Gregory's senior season vividly.
"Just about every game was sold out," Feyh said. "It often comes up that nobody has seen a kid jump like that in high school. He'd have three to five dunks in a game.
"There were so many (dunks). I guess the one that stands out is we were playing in the City of Palms Classic in Florida. We were playing Long Beach Poly. We had a fastbreak. Our point guard tried to alley oop to Kenny on the break. The ball was behind him. He reached back over his head with his right hand. Somehow he caught it one scoop and jammed it. It's one of the most athletic plays I've seen on any level."
Yes, Gregory remembers the slam-jam.
"We were down by about 30," Gregory said. "I guess the pass was a little high, but I was able to reach back and get it. What I remember most is everybody left the gym after it happened."
Recruiting revisited
Gregory was named Ohio's Mr. Basketball after averaging 25.0 points, 7.0 rebounds and 4.0 assists his senior year. He was named Most Valuable Player at the McDonald's All-Star game.
He accomplished all those feats as a Kansas University signee. Gregory signed with KU in November, wanting to ink early so he could enjoy his senior year.
Yes, he considered Ohio State, but the Buckeyes were never a major player. Coach Randy Ayers was rumored to be on his way out the program enduring five straight losing seasons.
Ayers did not do a good job recruiting Gregory, Feyh said.
"One week in September or October, he had Rick Pitino (Kentucky), Rick Barnes (Clemson), Roy Williams, Bob Huggins (Cincinnati) and Randy Ayers scheduled to come into his home," Feyh said. "Four of the five came. Randy Ayers was scheduled to come on Friday, had an airplane problem somewhere and canceled.
"They rescheduled and for some reason had to cancel again. It turned Kenny off a little. Late in the process, one of the Ohio State assistants convinced Kenny to come in for a weekend visit.
"He came to school on a Monday and I was rather surprised because Kenny said he had a pleasant experience and Ohio State was back in there. It came to crunch time and Kenny chose Kansas and announced it on his birthday. It's hard to say no to Roy Williams."
Gregory his favorite school actually may have been North Carolina, which recruited him early but dropped him after signing Max Owens never really came close to pulling the trigger and picking OSU.
"During my younger days I always wanted to go there. I followed Jimmy Jackson and those great teams," he said. "By my senior year I considered Ohio State, but only near the end of recruiting when I had doubts about leaving home.
"My recruiting got a lot of attention. I feel I made a positive decision, one right for me. Some people in Columbus might say, 'He should have stayed home. They made a Final Four.' But I feel I made the right decision."
Final Four fever
As it turned out, Ayers was fired in the spring of Gregory's senior year. Boston college coach Jim O'Brien took over and the Buckeyes reached the Final Four during Gregory's sophomore season at KU.
"I was happy for them. I had some friends on that team," said Gregory, good buddies with Columbus native Michael Redd, who turned pro after his junior season. "But I haven't had any second thoughts about my decision. I chose a different path."
Back after missing three straight games with a stress fracture in his right foot, Gregory, KU's leading scorer, is now hoping to resume what he hopes is a memorable senior year. Playing well at OSU would be a great return, he admits.
"I know two of their guys pretty well Brian Brown and Ken Johnson he said. "I'd like to go 3-0 against the Buckeyes in my career. Playing well would be icing on the cake. I will not try to force things. The most important thing is to get the win."
And enjoy the holidays.
"It's always great to be home," said Gregory. "I don't have to travel. I'm going to be home right after that game. That's really nice."
This game is KU coach Williams' gift to Gregory. He likes to play games the hometowns of his players whenever possible.
It's a blessing to one other person, too Gregory's mother.
"We've been looking forward to this all year. It's the best Christmas gift," Emma Gregory said.
Assistant sports editor Gary Bedore's phone number is 832-7186.
Copyright 2018 The Lawrence Journal-World. All rights reserved. This material may not be published, broadcast, rewritten or redistributed. We strive to uphold our values for every story published.