"We came from the ground floor up," says Str8jakkett, one of the four MCs in DVS Mindz. "From nobody knowing us, to people knowing us, to disrespecting us, to opening for major acts."
DVS Mindz, which stands for Dope Versatile Styles Manifested IN a Direction to Zucceed, formed in 1993 when Str8jakkett and Killa The Hun, who met in middle school, began collaborating on music. D.O.P.E. signed on a few months later and the trio debuted Nov. 4, 1993, at a Topeka talent show. DL came from the ranks of seminal rap outfit Mind Control and DJ Kutt solidified the group's lineup thereafter.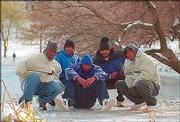 "It comes together," explains DL. "Everybody's here for a reason. We got a puzzle full of pieces."
"It ain't a name," D.O.P.E. says. "It's a way of life."
DVS quickly gained a reputation for its fierce live performances and began blowing the minds of hip-hop fans throughout Topeka, Lawrence and Kansas City. During the years, the group has shared stages with some of the most respected names in rap, including Run DMC, Sugarhill Gang, Redman, De La Soul and Goodie Mob. For DVS, rap life begins onstage.
"A lot of these cats is wack and they ain't takin' it back to they roots," D.O.P.E. explains. "They just gettin' onstage and rhyming. Half the cats ain't even rhyming, they're lip synching like they shooting a video.
"When we get onstage, we put on a show. When I pay my money, I don't want to see someone up there walking back and forth rhyming. I wanna see LL Cool J jump out the box. That's a show!"
DVS Mindz' music first appeared on "ICU: The Revival" in 1998. The compilation CD featured a veritable who's-who of hip-hop, including legends such as The Coup. Two DVS tracks, "Real MCs" and "No Coast," made the final cut. The band then released its debut "Million Dolla Broke Niggaz: The DVS Experience 1994-2000 Volume One" last May.
"We got million dollar dreams, but we ain't got no money," explains DJ Kutt of the album's title. "And there's a lot of cats like that."
"There's a lot of emotion in it," DL says. "We write subjects. A lot of groups just write songs for the club. We vibe way hotter on something like 'Yellow Brick Road' that gives the life story of everybody than we do trying to rock something for the damn club. We rock similes, metaphors and lyrics to ya all day."
"It ain't no good out in the street," Killa declares. "It sucks. That's what we write about: (expletive) that sucks in the street. We take the good times and put 'em in there too.
The Mid-best
In the last year or so, the Midwest has steadily gained a reputation as a hip-hop hot spot. With artists like Nelly topping the Billboard charts and going multiplatinum, the rest of the nation is slowly waking up to what the area's music is offering.
"Our sound is our sound," DL explains. "We can't necessarily call it the Midwest sound. I'm from right here, I was born and raised here. My sound has to be Midwest, ain't nothing else."
"In the Midwest, it's a melting pot," Str8jakkett says. "That's one of the things I like about the Midwest, you can't really define it. Oh, you're gonna get country grammar, where they slur words and stuff like that. But then you get cats like us that rock metaphors. That's us we're the unseen, we're zero visibility."
"It's 2000," says D.O.P.E. "It's the year for the Midwest MCs. It's the year for Midwest talent. There's so much talent out there from the Midwest but ain't nobody recognizing that (expletive). In DVS Mindz, we speak for Topeka, we speak for our Midwest region. When we touch mikes, we touch mikes for everybody that's claiming they from the Midwest. We're spitting for everybody."
DVS doesn't have much love for the bling-bling flash of commercial rap, where a pop star's success is measured by the size of his wallet.
"It's on that kid stuff," Kutt says, laughing. "Like, 'I got a popsicle and YOU DON'T!"
"That hippity-hoppity bubble-gum stuff, that's cool and it represents the art form," Str8jakkett says. "But we don't need (women), we don't need flashy clothes, we don't need ice. Any props that we get, we've earned onstage. We want respect and that commercial (expletive) will not get you respect."
"It'll get you a check, though," Killa says, dryly. "Ask Will Smith."
Currently DVS has been holed up in the studio working on tracks for its sophomore effort. Recent songs such as "Heat," "Flamethrower," "Haterville" and "Genocide" are potential candidates for the project, as are the nearly two dozen songs that weren't used on the band's debut. For DVS, self-described "habitual rhymers," professionalism is all part of the game.
"You gotta get your rhymes right," says D.O.P.E. "There are a lot of cats in the Top (Topeka) that are rhyming, and they nice when they cipher and rhyme to their man (DJ), but when they get into the studio they can't stay on beat. It'll take 'em an hour and a half to spit one verse. If you want to do this for real, you've got to practice verses."
Overall, it's been a great year for DVS. The band's Web site, www.dvsmindz.com, features a variety of audio and video tracks that remain popular with local rap fans. DVS also appeared on "Spatula City," a Net-based TV show, last fall. The group also recently has completed work on "DVStory," a documentary of the group's struggle to make it to the top of the rap pack. As for the future, it's onward and upward.
"We make music for ourselves," Kutt explains. "If you like it, then we love it. But we're gonna do it even if we only got one fan."
Copyright 2018 The Lawrence Journal-World. All rights reserved. This material may not be published, broadcast, rewritten or redistributed. We strive to uphold our values for every story published.