New York — The Nasdaq composite index fell to its lowest level in more than a year Tuesday after the Federal Reserve indicated that it was worried about the slowing economy but declined to cut interest rates.
Blue chips also tumbled when Wall Street, which had rallied on hopes of a rate cut, again focused on earnings and fears of a possible recession. Analysts said investors especially were spooked by the Fed's recognition that the economy may be slowing too much, too fast.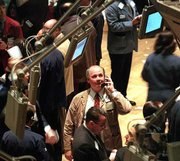 "The market's worried about earnings, and this tells us that it isn't going to get better anytime soon," said Gary Kaltbaum, a technical analyst at JW Genesis. "As soon as the Fed mouthed its words about the economy, stocks especially the Nasdaq, which is already in a downturn got whacked again."
The Nasdaq closed down 112.81 to 2,511.71, a 4.3 percent drop, its lowest level since August 1999 and the index's sixth straight losing session.
The Dow Jones industrial average fell 61.05 to 10,584.37, a nearly 0.6 percent loss, after gaining as much as 139 points earlier in the session.
The Standard & Poor's 500 index fell 17.14 to 1,305.60, a loss of more than 1 percent.
Trading was heavy and extremely volatile after the Fed announcement, which cut short a morning rally in technology and what would have been the second straight session of gains for blue chips.
Wal-Mart was off $2.56 at $48. Target Corp. fell $2.94 to $28.75, a 9 percent drop. Morgan Stanley Dean Witter dropped 25 cents to $69 after rallying early in the day despite reporting earnings well below Wall Street estimates.
A gloomy earnings forecast also sent SBC Communications SBC down $6.75 to $46.56.
Technology issues dropped as well.
Microsoft was off $3.06 at $44.75 on reports the company plans to cut costs as it boosts some salaries. Sun Microsystems dropped $1.63, or 5.7 percent, to $26.94.
"I think we're in for a choppy period that's going to extend into next year," said Robert Christian, chief investment officer at Wilmington Trust.
---
Copyright 2017 The Associated Press. All rights reserved. This material may not be published, broadcast, rewritten or redistributed. We strive to uphold our values for every story published.