Toronto — Vince Carter and the Raptors took advantage of the "bored" Utah Jazz.
Carter scored 33 points Tuesday night and Toronto held Karl Malone scoreless in the second half to beat Utah 103-95.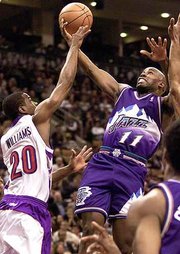 Malone, who played just 26 minutes, was held to 12 points and four rebounds. After missing his first three shots of the third quarter, Malone was benched for the remainder of the period. He played only four minutes in the fourth.
"People don't pay to come watch the players look bored," Utah coach Jerry Sloan said. "I'm sorry to say this but we looked sad to be here. I don't care what names were out on the floor. I was looking for someone who wants to play."
Sloan benched John Stockton two minutes after he sat Malone. Stockton played just 10 minutes in the second half.
"Go ask them why they can't play hard," Sloan said to reporters.
Carter scored 12 points as the Raptors outscored the Jazz 26-15 in the third quarter. Utah made just two of 20 shots from the field in the period. After Carter made a three-pointer with 3:33 left in the quarter, Davis followed with a 14-foot jumper to give Toronto a 20-point lead.
The Jazz are in the midst of their longest road trip of the season, playing six games in nine days, but Sloan didn't care.
"We're having practice tomorrow, not a shootaround. I don't care about fatigue," Sloan said.
Carter gave Toronto a 14-point lead with 1:41 remaining on a spectacular reverse layup and a free throw for a three-point play.
Donyell Marshall scored 24 points for the Jazz.
Antonio Davis had 14 points and 13 rebounds for the Raptors, who never trailed.
"I'll never understand Jerry Sloan," Davis said. "It was good for us to have them on the bench."
Hawks 87, Knicks 77
Atlanta Lorenzen Wright, starting in place of the injured Alan Henderson, scored 20 points and grabbed 12 rebounds, leading Atlanta over New York. Jason Terry added 17 points, Matt Maloney had 15 and Roshown McLeod had 12 for the Hawks. Dikembe Mutombo had 15 rebounds. Glen Rice led New York with 23 points.
Lakers 81, Heat 79
Miami Shaquille O'Neal had 22 points, 14 rebounds and four blocked shots including one in the final seconds as Los Angeles beat Miami. O'Neal struggled from the free-throw line, hitting two in 11 tries. Kobe Bryant added 23 points. Horace Grant hit two key jump shots in the closing minutes to give the Lakers their fourth consecutive win over the Heat. Anthony Mason led Miami with 20 points and 11 rebounds.
Spurs 86, Rockets 79
Houston Tim Duncan scored 25 points to lead San Antonio over Houston. Duncan also had a game-high 15 rebounds as the Spurs beat the Rockets for the ninth consecutive time. David Robinson fouled out with 2:06 to play and had only five points and seven rebounds. Moochie Norris, making his first NBA start in place of the injured Steve Francis (sprained ankle), scored a season-high 17 points, as did Hakeem Olajuwon.
Pacers 90, Bulls 85
Chicago Reggie Miller and Jermaine O'Neal made sure Isiah Thomas' homecoming was a happy one. Miller scored 15 of his 22 points in the fourth quarter, and O'Neal made two free throws and blocked a shot in the final 29 seconds as Indiana held off Chicago. It was Thomas' second victory as a coach over the Bulls, but his first in his hometown. O'Neal finished with 11 points, 13 rebounds and five blocked shots. Travis Best scored 19 and had 10 assists. Elton Brand led the Bulls with 17 points.
Pistons 89, Suns 84
Phoenix Jerry Stackhouse, the NBA's No. 2 scorer, had 35 points including 13 in the decisive third quarter as Detroit handed Phoenix its third loss in a row. The Suns were without Jason Kidd (sore lower back and left knee). Stackhouse sank 11 of 12 free throws, including two to seal the victory with 12.1 seconds left.
Warriors 120, Timberwolves 99
Oakland, Calif. Rookie Marc Jackson scored a career-high 31 points and grabbed 10 rebounds as Golden State ended a five-game losing streak. Antawn Jamison added 26 points for the Warriors.
Kings 106, Wizards 72
Sacramento, Calif. Chris Webber had 19 points and 11 rebounds as Sacramento cruised to its seventh straight home victory.
Copyright 2018 The Associated Press. All rights reserved. This material may not be published, broadcast, rewritten or redistributed. We strive to uphold our values for every story published.