Mexico City — The Mexican government swiftly evacuated thousands more people Tuesday from homes near the Popocatepetl volcano as the behemoth erupted for a second day, hurling molten rocks the size of beach balls into the air.
Authorities said they were on "maximum alert" Tuesday afternoon because a series of tremors in the volcano indicated that a vigorous new eruption was likely.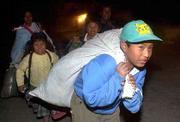 But officials said their greatest concern was that the red-hot rocks spewing from the 17,887-foot volcano would melt a glacier on its flanks, sending torrents of mud and water toward nearby towns.
Since Monday night, the volcano known locally as "Popo" has erupted three times in its biggest activity in more than 400 years. The volcano, just 40 miles southeast of Mexico City, is considered capable of producing devastating explosions.
Although the volcano has shot debris as far as six miles, most of the glowing stones and rubble have fallen near the crater. No injuries or deaths have been reported.
Still, the government was taking no chances. It continued busing people out of villages near the volcano Tuesday, with 30,000 evacuated by midday.
"This is not over. It's likely it will continue for some days with the eruptions," President Vicente Fox said Tuesday as he visited a shelter in Cholula, 65 miles southeast of the capital, where he was mobbed by worried evacuees.
Mexicans have been transfixed by the dramatic explosions at Popocatepetl, a volcano steeped in Indian legend. National television networks provided hours of live coverage, from the radiant fireworks of Monday night's explosion to the calmer scenes Tuesday of a 2-mile-high plume of ash and vapor puffing from the mountain.
Newsboys strolled through traffic Tuesday in Mexico City hawking tabloids featuring an inferno-type photo of Monday's explosion. The screaming headline: RUN!
Authorities said such alarm was unnecessary. But they became concerned when an explosion at 2 a.m. Tuesday tossed burning rocks in the direction of a glacier on the volcano's western side. Another eruption occurred just after 6 a.m.
"In case of a thaw (of the glacier), there would be a high-risk situation, because mud and water could begin to flow through the ravines toward different towns," Interior Minister Santiago Creel said.
People living near the glacier had been evacuated and the army was patrolling the towns, he said.
Roberto Quaas, head of the national disaster-prevention agency, told the Los Angeles Times that the glacier is about 100 acres square, with ice 65 feet deep. Even if only 5 or 10 feet of the ice's depth melted, the result could be a powerful torrent.
Scientists say that mudslides on volcanoes such as Popocatepetl can be far more dangerous than flows of lava, which tend to move more slowly.
Authorities said Tuesday that nearly all the population within a 7-mile radius of the volcano had been evacuated and that they were beginning to move residents living up to 12 miles away. About half of the 30,000 evacuated so far have been lodged in temporary shelters set up by the government.
Copyright 2018 The Lawrence Journal-World. All rights reserved. This material may not be published, broadcast, rewritten or redistributed. We strive to uphold our values for every story published.