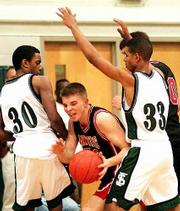 Junior Jamie Peterson scored a game-high 17 points to pace Lawrence High to a 56-47 junior varsity boys basketball victory over Free State on Tuesday at Free State.
The Lions (3-0) also received 10 points from junior Matt Dunkin, in his first game of the season. Free State (3-2) was led by junior guard Aubrey Gilbert's 15 points. Keith Wooden scored 10 in just one quarter.
Copyright 2018 The Lawrence Journal-World. All rights reserved. This material may not be published, broadcast, rewritten or redistributed. We strive to uphold our values for every story published.