In 1863, when Quantrill's Raid destroyed most of Lawrence, what would later be called the House Building, 729-731 Mass., stood erect amid the ashes.
This month, 137 years later, the downtown structure was put on the Kansas Historical Society's Register of Historic Kansas Places.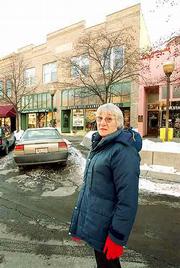 Steve Jansen, director of the Douglas County Preservation Society, said the building was historically significant because it survived the raid of pro-slavery advocates unleashing their anger on Lawrence, then the Free State capital.
"That's the single most historical event in the history of the city," Jansen said of Quantrill's Raid.
Jansen noted that the city's symbol is the phoenix rising above the ashes. The House Building stood above the ruins of destruction after the raid, Jansen said, making it a symbol of Lawrence's rise from the ashes after the "Bleeding Kansas" period.
Carol Francis, building owner, said the House Building was part of a revitalized downtown area after the Civil War. It remained a centerpiece in the lively downtown area and contributed to the community's economic health for years.
Throughout the decades it housed a post office, billiard parlor, beauty parlor, brewery, furniture store and many well-known doctors, attorneys and restaurateurs. Today Francis leases about 16 offices on the second floor; Francis Sporting Goods and Brown Bear Brewery share the downstairs.
Francis has applied at least three times to get her building on the state register.
She became so enthralled with its history that she wrote a book in 1990 titled, "The House Building: My Search for Its Foundations." It was commended in 1991 by the American Association for State and Local History.
The building's admittance on the historic register was denied for more than a decade. Erected in 1858, it underwent significant remodeling in 1921.
"They kept saying, 'But it doesn't look like an 1858 building!'" Francis said. "I just knew that the building qualified, but I had to make everyone else believe that it did."
Francis finally convinced the Kansas State Historical Society that the building, named after early 20th-century owners Robert and Irma House, deserved to be noted.
The historic preservation of the building now guarantees that no government entity will undertake a project that could destroy or alter the structure. The register listing also recognizes the building's historic importance to the community.
"It's a nurturing building, not slick and glass and metal," Francis said. "There are vibes in there. It carries history with it."
Copyright 2018 The Lawrence Journal-World. All rights reserved. This material may not be published, broadcast, rewritten or redistributed. We strive to uphold our values for every story published.