Chalk one up for Goliath.
Free State High took advantage of its height advantage receiving 45 points from its starting three post players in knocking off pesky Lawrence High, 63-55, on Tuesday night at the FSHS gym.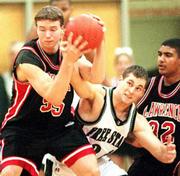 "Awesome," FSHS senior swingman Richie Dunlop said. "There's nothing better than this. The crowd's hyped. For both sides the crowd's loud. It's just awesome. The energy level is so high. It like a whole new world."
With the win the Firebirds improved to 3-3 heading into the winter break, having won two in a row. Free State also won its home opener there was a standing-room only crowd shoehorned into the Firebirds' 1,750-seat gym for the fourth straight season.
"It doesn't get any better than this," Dunlop said. "In front of all those people, to come out and win on your home court it's always good."
The same probably could be said about Dunlop. Free State's 6-foot-3 swingman tortured the Lions (3-1) from both inside and out, scoring a game-high 22 points on 8-of-18 shooting. He also grabbed nine rebounds and buried a three-pointer to break a 34-34 tie that sparked a 13-0 run.
"We weren't counting on him hitting those shots from the outside and when he did it made it difficult for us to recover from that," LHS coach Chris Davis said. "I think there was a lot of focus put on Pat (Krivoshia) and put on Keith (Wooden) and we didn't give the attention to Richie that we should have.
"He had a great game."
Not to be outdone, Wooden and Krivoshia the Firebirds' sophomore center and senior forward tallied 12 points and 11 points respectively. LHS was led by junior guard D.J. Watkins' 21 points, followed by senior C.J. Kie with 14 and junior guard Stephen Vinson with 11.
Wooden actually was held below his team-leading average of 14.2 points per game, but hit his first five shots to lead all scorers with 10 first-half points.
Free State 63, Lawrence 55
LAWRENCE (55)Stephen Vinson 3-11 4-6 11, Devin McAnderson 0-3 1-2 1, D.J. Watkins 7-13 2-3 21, C.J. Kie 5-12 4-8 14, Martin deBoer 0-5 0-0 0, Mark Frederick 0-3 0-4 0, Terrelle Johnson 3-6 2-4 8, Brandon McAnderson 0-0 0-0 0, Matt Dunkin 0-2 0-0 0. Totals 18-55 13-27 55.
FREE STATE (63)Morgan Minnis 1-4 4-4 6, Andron Cruse 2-3 0-0 4, Pat Krivoshia 4-6 3-4 11, Keith Wooden 6-10 0-4 12, Richie Dunlop 8-18 5-8 22, Chris Luman 0-1 0-0 0, Neil Dougherty 2-2 3-4 8, Greg Dillon 0-2 0-0 0, Walker Douglas 0-2 0-1 0. Totals 23-48 15-25 63.
| | | | | | |
| --- | --- | --- | --- | --- | --- |
| Lawrence | 14 | 8 | 12 | 21 | 55 |
| Free State | 15 | 9 | 20 | 19 | 63 |
Three-point goals Lawrence 6-21 (Watkins 5-11, Vinson 1-6, D. McAnderson 0-1, deBoer 0-1, Frederick 0-2), Free State 2-10 (Dougherty 1-1, Dunlop 1-3, Cruse 0-1, Dillon 0-2, Minnis 0-3). Total fouls Lawrence 24, Free State 19. Fouled out Wooden. Turnovers Lawrence 19, Free State 19.
"It was a good experience for me," said Wooden, who earned a double-double with 11 rebounds. "I've never played in front of that many people before. In the beginning I was nervous, but once it got started I kinda calmed down a little bit."
Lawrence High actually slowed Free State's big men in the second half by dropping into a 2-3 zone. But the zone giveth, and the zone taketh away. After Vinson's steal and layin knotted the game at 34-34 with 3:32 remaining in the third quarter, Dunlop drilled his back-breaking trey.
FSHS sophomore point guard Neil Dougherty drained a three-pointer the next trip down the floor, as well as hit a runner at the buzzer as the Firebirds closed the quarter with 10 unanswered points.
"We've got to hit our outside shots when they go to zone," Dunlop said. "That was good. We worked on zone all week. We didn't even work on man once. We did a lot of shooting drills at practice and that helped out a lot. Plus, on your homecourt, you've always got to hit your shots."
Free State also thrived on defense, holding LHS scoreless for a span of 7:01 during the end of the third and beginning of the fourth quarters.
In fact, the Firebirds earned a team-record four charges two by senior point guard Morgan Minnis, and one each from Dougherty and Krivoshia.
"That's the most I think I've ever had in a game that I was coaching in. Those were definitely key," FSHS coach Jack Schreiner said. "I thought that was Morgan's best game without question."
Dougherty finished with eight points off the bench while Minnis scored six.
The win, which made Free State 4-2 overall against LHS, ensured the Firebirds would have happy holidays.
"It's real big for that one reason right there: going into the break feeling pretty good," Schreiner said. "Coming back now it makes practices that much easier. The kids now respond better to what you say because they feel good about what they've done, they feel good about themselves."
The Firebirds will need more than Christmas cheer in their next game. Free State travels to face No. 1-ranked Leavenworth, ranked No. 6 in the Midwest Regional by the USA Today, on Jan. 5.
"It was very important," Dunlop said of the win. "We have a ton of confidence going into the second half of the season."
In the junior varsity game, junior Jamie Peterson scored a game-high 17 points to pace LHS to a 56-47 victory. The Lions (3-0) also received 10 points from junior Matt Dunkin, in his first game of the season. Free State (3-2) was led by junior guard Aubrey Gilbert's 15 points. Wooden scored 10 in just one quarter.
Copyright 2018 The Lawrence Journal-World. All rights reserved. This material may not be published, broadcast, rewritten or redistributed. We strive to uphold our values for every story published.