The holidays are just a few days away, but don't fret. Last-minute gifts for those special folks who deserve a thank you or a warm greeting are just as close as your kitchen.
What better way to show a friend, teacher, co-worker or neighbor that you appreciate him or her?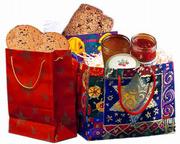 Many food gifts are inexpensive and quick to prepare. Best of all, homemade items from your kitchen are especially treasured by those who haven't had time to make their own. There are goodies you can bake, morsels you cook and some culinary presents you just assemble the quickest method of all.
No time to bake cookies? Send your own Chocolate Chunk Cookie Mix in a Jar. Fill a special keepsake jar or a canning jar with all the essential ingredients for a favorite holiday recipe. The dry ingredients stay fresh until ready to use. The recipient of the gift simply follows the attached recipe for directions on adding butter, egg, water and vanilla. (It's even a great gift to send back with students who will return to college after the holidays.)
You can adapt the idea to any baking recipe, such as a quick bread mix or a cake mix, by layering a jar with the dry ingredients. Or, prepare a dried soup mix using the same concept: Fill a jar with soup ingredients, including dried beans and lentils, dried garlic, onion flakes and herbs. If the jar does not have a screw-top lid, tape the lid firmly onto the jar.
Then, around the neck of the jar, tie the recipe with holiday ribbon, wired ribbon or trim.
Before you get started on last-minute food gifts, make sure you have the necessary equipment. Packaging the cookie mix calls for a wide-mouthed jar or a canning jar. Baked goods can be arranged in cookie tins and specialty plates. Decorative glass jars store candy.
Quick breads, such as Grape and Cranberry Bread, are ideal for gift-giving.
One recipe yields four mini-loaves or two standard-size loaves. The smaller size can be made in aluminum disposable pans that travel with the gift. This saves the time of removing bread from your sturdier loaf pans on the wire rack. Give mini-loaves to three or four friends, or wrap three mini-loaves together in plastic wrap. Tie with a colorful ribbon, add a Christmas ornament, and voila, an instant gift is ready.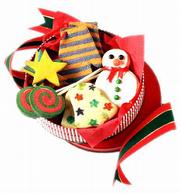 Stock up on specific ingredients that you will need for assembling food gifts. Georgeann Brown of Toledo, Ohio, keeps Dijon mustard on hand. She makes Honey Ginger Mustard for hostess gifts. Fresh ginger root is peeled and diced and added to the Dijon mustard. Small jars are capped and topped with fabric and ribbon.
She notes that you can even make your own signature flavored mustard. To 4 ounces of Dijon mustard, add one of the following from each category:
2 tablespoons pureed apricot, gooseberry, raspberry or black currant jam;
2 tablespoons finely minced mixed fresh green herbs, such as parsley, dill, rosemary, sage, basil or tarragon;
1 tablespoon frozen orange juice or lemon concentrate;
2 tablespoons orange or lemon zest, chopped;
1 teaspoon of drained, crushed green peppercorns.
Spiced pecans are another of Brown's quick gift ideas. "Put them in cute containers," she said. "People love these." Half-pound or pound containers are perfect for this.
Start with one pound of pecan halves. Beat 1 egg white with 1 tablespoon of water until frothy. Put the pecans in the egg-water mixture. Add a blend of 1/2 cup sugar, 1/4 teaspoon salt and 1/2 teaspoon cinnamon to the mixture. Spread out on a baking sheet and bake for an hour at 225 F stirring every 15 minutes until they "form a nice little crust." Cool and store in a closed container.
If you planned on gifts of jelly and sauces, you might be in a jam. Time is running out, so instead of fresh fruit, use canned fruit. Make Pear-Ginger Chutney with canned pears, fresh ginger and spices. It is an ideal accompaniment to poultry and game dishes such as venison.
Homemade candy is always a welcome gift. Five-minute Peanut Butter Fudge is a measure, mix and microwave recipe. After chilling, cut into squares, or use a metal cookie cutter to cut the fudge into different shapes.
Grape and Cranberry Bread
----
2 1/2 cups flour
3/4 cup sugar
3 teaspoons baking powder
1 teaspoon salt
1/4 cup vegetable oil
1 cup low-fat dairy sour cream
1/4 cup low-fat milk
1 egg, beaten
2 teaspoons grated lemon peel
1/2 cup chopped walnuts
1/2 cup chopped dried cranberries
1 1/2 cups halved seedless grapes
Combine all ingredients except grapes; mix well. Gently mix in grapes. Grease and flour the bottoms of four 5-inch-by-2 1/2 inch-by-2 1/4 inch loaf pans. Pour 1/4 of batter into each pan. Bake at 350° F for 40 to 45 minutes or until wooden pick inserted near center comes out clean. Cool 5 minutes. Turn out onto wire rack and cool completely before slicing. Yield: Makes 4 mini-loaves or 2 standard-size loaves.
Chocolate Chunk Cookie Mix in a Jar
----
1 1/4 cups all-purpose flour
1/2 teaspoon baking soda
1/2 teaspoon salt
1/3 cup sugar
1/2 cup firmly packed light brown sugar
16-ounce package semisweet chocolate chunks or chocolate chips (1 cup)
1/2 cup chopped pecans or walnuts
Combine flour, baking soda, salt and granulated sugar in a small bowl. Spoon into one-quart wide-mouth canning jar.
Layer remaining ingredients in order given, making sure to pack down each layer firmly and clean inside of jar with a dry paper towel after each layer.
Decorate lid as desired with fabric. Attach these instructions to jar: In large mixing bowl, cream together 2/3 cup softened butter or margarine, 1 egg, 1 teaspoon water and 1/2 teaspoon vanilla until light and fluffy. Add contents of jar and mix well.
Drop by rounded teaspoons onto ungreased cookie sheet. Bake at 375° F for 8 to 10 minutes or until lightly browned.
Yield: 3 dozen cookies.

Five-Minute Fudge
----
1 12-ounce bag semi-sweet chocolate chips
1 12-ounce jar peanut butter, smooth or chunky
1 14-ounce can sweetened condensed milk
In a 1 1/2-quart bowl, melt chocolate and peanut butter in microwave on High for 3 minutes. Remove, stir well. Add milk, stirring until well blended.
Pour mixture into 8-inch-by-8-inch pan lined with waxed paper.
Refrigerate to chill. Cut into 1-inch pieces. Yield: Makes 64 squares or 32 servings.

Honey Ginger Mustard
----
1/2 cup Grey Poupon mustard
4 tablespoons honey
1 tablespoon fresh ginger root, peeled and diced
1 tablespoon lemon juice
1 teaspoon vegetable oil
Combine all ingredients in a small blender jar or work bowl of a food processor. Run machine until mixture is pureed.
Pour into a glass jar with a tightly fitted lid. Keep refrigerated. Yield: 3/4 cup.

Pear Ginger Chutney
----
1 16-ounce can pear halves or slices in juice
2 cloves garlic, finely chopped
1 tablespoon finely chopped fresh ginger
1/4 cup white wine vinegar
3 tablespoons sugar
1/2 teaspoon salt
1/4 teaspoon ground cumin
Drain pears, reserving 1/4 cup liquid. In small saucepan, combine pears, liquid and remaining ingredients.
Bring to a boil over medium high heat; reduce heat and simmer 20 minutes. Yield: 1 cup or 2 half-cup jars.
Copyright 2018 The Lawrence Journal-World. All rights reserved. This material may not be published, broadcast, rewritten or redistributed. We strive to uphold our values for every story published.