Lawrence city commissioners got the ball rolling Tuesday on expansion of the Clinton Lake water treatment plant more than two years ahead of schedule.
Commissioners approved a $155,000 contract with Black & Veatch, a Kansas City, Mo., engineering company, to start work on expansion plans for the plant, which supplies west Lawrence residences and businesses with drinking water.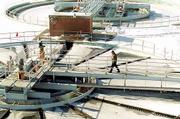 The plant can treat about 10 million gallons of water per day; the first phase of expansion will increase that capacity to 15 million gallons.
Expansion had been slated to begin in 2003, but officials say the water is needed as soon as possible. They've fast-tracked the project, using a "design/build" process that bypasses the traditional bidding process to select a contractor as quickly as possible.
Chris Stewart, water systems engineer for the city, said the expansion should cost about $7 million.
The Clinton Lake plant and the older Kansas River plant together can treat more than 26 million gallons of water a day.
During summer 2000, the plants strained to meet Lawrence water use.
"We were operating at more than 100 percent capacity," Stewart said.
The city asked large water users Kansas University, golf courses, even public parks to voluntarily conserve water. That brought consumption down to about 24.5 million gallons a day, Stewart said, but it pushed the city to speed its expansion efforts.
"The city has grown to the point that the plant expansion has been planned for some time," Stewart said. "Now it's the time to proceed."
The original plan called for the Clinton Lake plant to expand to 20 million gallons a day. But Stewart said federal authorities are expected to hand down a new set of water quality rules by 2005. So the city is doing half the project now and half later.
"We don't want to do the entire project and risk coming back to do additional work," he said.
A second phase designed to meet the new regulations and complete the expansion should be finished by 2007, Stewart said.
Black & Veatch engineers will design the expansion, work with state health officials for approval, help select a contractor and, the city hopes, keep the cost of the project down.
Commissioners expressed concern about bypassing the bid process, but City Manager Mike Wildgen said the design/build process will get the expansion built within 18 months.
The city will monitor the process to make sure costs don't get out of hand, he said.
"It's quicker, but we won't be without confidence that the city is protected," he said.
Copyright 2018 The Lawrence Journal-World. All rights reserved. This material may not be published, broadcast, rewritten or redistributed. We strive to uphold our values for every story published.