It's been back to basics the past two games for Kansas University forward Nick Collison the Big 12's men's basketball player of the week.
"I've tried to simplify," said Collison, who busted a recent slump by scoring 42 points in victories over DePaul and Tulsa. "For a while, I was trying to do too much. Now I'm getting it, turning and shooting."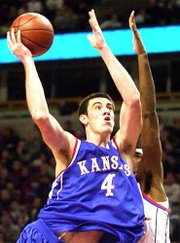 The 6-foot-9 sophomore hit 17 of 23 floor shots and seven of seven free throws the past two games. Prior to that, he'd scored in single digits in three of five games.
Collison scored two points against Washburn and nine versus Illinois State and Boise State to go with a 12-point, four-rebound performance at Wake Forest.
For a stretch, it seems the Iowa Falls, Iowa, native had been deliberating too much on what was a good shot or bad shot in KU's offense.
"I was questioning a bit whether my shot was the best one we could get. The coaches reminded me I'm not a guy out there taking bad shots usually. I am not shooting a quick three or something like that," Collison said.
"If I'm getting the ball in the post, it should be a good shot, so they said, 'Just play.' Coach (Joe) Holladay and (Ben) Miller talked to me a lot about that. I listened to them and realized I was playing a little tentative."
So he's added some aggression and emotion to his game.
Against Tulsa, Collison could be seen chest bumping Eric Chenowith and Drew Gooden after buckets. He hit eight of nine shots and two of two free throws and scored 19 points after a career-high 23-point outburst versus DePaul.
"I've never been a guy pumping fists and yelling a lot," Collison said. "It helps to be a little more emotional. I showed a little more emotion in the DePaul game and played well. It's a little away from my personality, but I think it might help me if I show more fire. It might pick me up and everybody else up."
If he keeps this up, he soon might be known as KU's "go-to guy." That would be OK with Collison.
"In tough games, somebody needs to step up, to get people in the right place or somebody to make big plays. I think I have the ability to do that," Collison said.
Collison is the second Jayhawk to earn the Big 12's weekly honor. Kenny Gregory was named player of the week on Nov. 28. The last time KU boasted multiple players of the week was in 1997-98, when Raef LaFrentz and Paul Pierce were so honored.
Collison won this week's honor in a split vote over Missouri sophomore Kareem Rush who had 32 points and 10 rebounds in a 99-94 double overtime loss at Iowa.
The tipoff time for Saturday's KU-Ohio State game has been changed from 3 p.m. to 3:15 p.m., CBS announced Tuesday.
KU players Chenowith, Gregory, Collison, Gooden and Kirk Hinrich will be shown wearing Santa Claus hats singing Christmas carols during the CBS broadcast on Saturday. Jingle Bells and Rudolph the Red Nosed Reindeer are the songs of choice.
Baylor's Chad Elsey has been named Big 12 Rookie of the Week. Playing in his first game, the SMU transfer scored 20 points in
the Bears' road win at Cal State Fullerton. The Flower Mound, Texas, junior guard hit four three-pointers in five tries.
---
Copyright 2018 The Lawrence Journal-World. All rights reserved. This material may not be published, broadcast, rewritten or redistributed. We strive to uphold our values for every story published.