Washington — In an Oval Office rite of passage masking their sharp differences, President-elect Bush listened to the litany of world problems he'll face from the man who has wrestled with them for the last eight years. President Clinton advised that Bush "get a good team and do what he thinks is right."
Sitting where his father led the nation until his defeat by Clinton, Bush said Tuesday, "It's such a huge honor to come as the president-elect. I don't think I'll really, fully realize the impact until I swear in" on Jan. 20.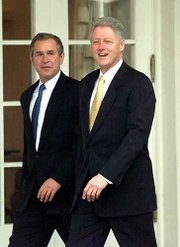 Bush seemed tense, sitting straight in a wing-backed armchair, his hands clasped in his lap as he rubbed his thumbs and tapped his foot. Twice he thanked the president for his hospitality and said, "He didn't need to do this." Bush told reporters, "I'm here to listen" and said it was "a high-energy moment." White House officials described the talks as very serious and frank.
After two days of meetings in Washington and interviews with prospective Cabinet members, Bush flew back to Texas. Today he is expected to name longtime friend and former campaign chairman Don Evans as commerce secretary; Mel Martinez, a former Cuban refugee who is chairman of Orange County, Fla., as housing secretary; and, as agriculture secretary, Ann Veneman, former director of the California Food and Agriculture Department who worked in the previous Bush administration.
Bush, in a gesture of conciliation, also invited black ministers and others to a meeting in Austin to discuss domestic policies. In the Nov. 7 election, Bush received only one of 10 black votes.
The president-elect also invited a bipartisan group of education policy-makers, including eight to 10 lawmakers, on Thursday to Austin. Bush has promised to make education one of the first items on his legislative agenda.
Clinton and Bush talked by themselves for more than two hours, first in the Oval Office and then over lunch in the family dining room in the residence. Their discussions covered trouble spots such as the Middle East, the Balkans and North Korea, officials said. They dined on curried squash soup, filet mignon and Greek salad.
Bush paid a 15-minute call on defeated rival Al Gore at the vice president's mansion. Stepping outside in a light snow without an overcoat, Gore greeted Bush at his limousine with a long handshake and a pat on the back. "We're going to have a private discussion," Gore said.
Gore, who waged a futile five-week battle to count disputed ballots in Florida, emphasized "the importance of setting differences aside and coming together," spokesman Jim Kennedy said.
Bush also met with Wisconsin Gov. Tommy Thompson, his leading candidate for secretary of health and human services. Other candidates include social conservative Kay James and Gail R. Wilensky, former administrator of the federal Health Care Financing Administration.
Thirty-two days before his inauguration, Bush's White House meeting with the outgoing president was part of tradition. "It's kind of welcome to the club," said historian Henry Graff. For Bush it was a return to a White House where he already knows many of the ushers, doctors and Secret Service agents from his father's presidency.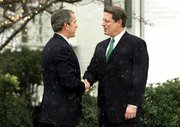 White House officials said there was no sign of any bad feelings from the campaign, when Bush had talked about restoring "dignity and honor" to the Oval Office and Clinton had warned that Bush would let polluters regulate the environment, bring back budget deficits and pursue dangerous nuclear-arms policies.
During their photo opportunity, Bush declined to repeat his warning of recent days of a possible recession. "I really don't have any comments," he said. "I look forward to talking with the president."
Clinton did not dodge the subject, citing the traditional definition of a recession two quarters, or six months in a row, of negative growth.
"I don't think we're going to have that," Clinton said. Yet he said the robust growth in the economy could not be sustained forever. "We couldn't keep up 5 percent growth a year, you know, forever."
He noted that most forecasters believe growth of the economy will stabilize at about 2.5 percent "or better next year. And that'll keep unemployment low."
"But I think there will be things to be managed. He'll have economic challenges and we ought to give him a chance to meet them, not try to figure it all out in advance," Clinton said.
At the transition headquarters, Bush spokesman Ari Fleischer said economic problems are sneaking up on the country, much as energy shortages caught politicians by surprise.
"It wasn't until September of 2000 that anyone in power started talking about an energy problem," Fleischer said. "In Washington we need to do a little better job of looking down the road. That is what President-elect Bush is doing."
White House press secretary Jake Siewert said foreign policy was the primary focus of the Bush-Clinton talks. He said Clinton "talked about some of the hot spots around the world and some of the challenges the new administration will face and the state of play in some of those places that make headlines in the news here in America."
He said Clinton, who got a rocky start to his presidency, also talked about "how to run an effective operation here, some of the lessons we had learned over the last eight years."
Clinton also said he had not decided whether to make a ground-breaking visit to North Korea. Bush, asked if Clinton should go, said he hadn't talked with the president about it yet.
Meanwhile, Fleischer said Bush had noted reports quoting administration officials that Clinton would not seek a pardon from the new president. "We take him at his word," Fleischer said. Independent Counsel Robert Ray has said he will decide soon after Clinton leaves office whether to seek an indictment for his actions in the Monica Lewinsky scandal.
Copyright 2018 The Associated Press. All rights reserved. This material may not be published, broadcast, rewritten or redistributed. We strive to uphold our values for every story published.