The bankrupt Farmers Cooperative Assn. is preparing to sell its Lawrence headquarters and other operations to help pay off its debts.
The state's largest agricultural co-op will "liquidate" its complex at 2121 Moodie Road for commercial development, said Don Dumler, FCA's president and chief executive officer.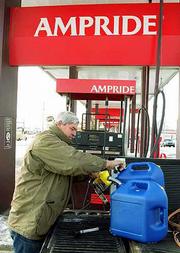 Stores in Lawrence and Gardner also will be sold.
The headquarters site, known as the south elevator, covers more than eight acres southwest of 19th Street and Haskell Avenue and no longer makes sense as an agricultural operation, Dumler said. A dwindling number of trucks are willing to roll into Lawrence to dump grain, pick up fertilizer or collect propane.
"The value of the property is worth more than the operational side of it," Dumler said. "It's getting enclosed in the city of Lawrence. It won't be sold as an operational unit. It will be disposed of, for whatever the real estate is worth in the middle of Lawrence."
The property will be sold along with an Ampride convenience store at 1000 E. 23rd St. and another co-op shop in Gardner, Dumler said. No buyers have been identified.
"We're getting out of the retail business, and getting back to the real world of what we need to be doing," Dumler said.
The proceeds from all three properties would be used to help satisfy claims from unsecured creditors, Dumler said. Such creditors are owed $8.5 million, according to court documents.
The headquarters site is valued by Douglas County for tax purposes this year at $795,000; the co-op says the market value of its real property at the site is $1.5 million, according to court documents.
The county values the Ampride store at $690,000, while the co-op filed documents with the court saying its real property there is worth $1.15 million. FCA values its real property in Gardner at $350,000.
The decision to sell the three sites comes as two regional cooperatives consider FCA's offer to sell them the remainder of the co-op's assets. Either Minnesota-based Cenex Harvest States or Ag Processing Inc., of Omaha, Neb., could buy the remaining sites to keep them in operation, Dumler said.
Selling those assets more than a dozen elevators, feed stores and other sites, from Burlingame to Winchester would fetch at least $11.35 million, or enough to satisfy the secured claims brought by CoBank and UMB Bank, Dumler said.
The cooperative, which filed for Chapter 11 protection in September with 140 employees and more than 3,500 member-owners, was sent into bankruptcy when CoBank froze its line of credit in September. The co-op has been operating on a cash basis ever since.
Copyright 2018 The Lawrence Journal-World. All rights reserved. This material may not be published, broadcast, rewritten or redistributed. We strive to uphold our values for every story published.