Toronto — Gary Roberts' punch might have cost the Toronto Maple Leafs a victory.
Roberts received a roughing penalty just as regulation time expired, and Valeri Bure scored a power-play goal in overtime as the Calgary Flames beat the Maple Leafs 6-5 on Saturday night.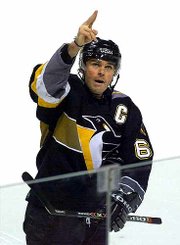 Roberts received the penalty for punching Calgary's Marc Savard. Bure took advantage of the man advantage, one-timing the puck past Joseph 34 seconds into extra time.
"Marc takes three pokes us, and I poke him once and I get the penalty," Roberts said. "A guy like Marc Savard, you know he's not going to drop the gloves and fight for himself. He's going to bury himself into a hole, and hope you take a dumb penalty and that's what I did tonight."
Roberts said Savard should have received a penalty.
"Obviously I'd like to have that punch back. It cost us a point," Roberts said. "But the referee should have evened it up."
Capitals 4, Oilers 0
Washington Peter Bondra had a goal and an assist, and Olaf Kolzig recorded his third shutout as Washington extended its home unbeaten streak to nine games. Kolzig only had to make 14 saves, tied for the fewest this season.
Flyers 6, Devils 3
Philadelphia Simon Gagne scored twice and Daymond Langkow and Rick Tocchet had a goal and two assists each as Philadelphia beat New Jersey. It was the first meeting in Philadelphia between the clubs since New Jersey rallied from a 3-1 deficit in last season's Eastern Conference finals winning two of the final three games on the Flyers' home ice.
Penguins 4, Canadiens 4
Montreal Jaromir Jagr's eighth career hat trick couldn't spoil Saku Koivu's return to the lineup as the Montreal captain scored twice. The Canadiens ended a six-game losing streak, though they remain winless in eight games (0-6-2) since Nov. 30. Koivu, who missed 28 games after injuring his knee in the Canadiens' fourth game of the season, scored his second of the game and fourth of the season at 12:47 to forge a tie.
Bruins 4, Hurricanes 1
Boston Joe Thornton and Sergei Samsonov each scored two goals and Byron Dafoe made 17 saves in his first start in nearly a month for Boston. Dafoe (2-4-2) has missed 23 games this season because of hamstring and knee injuries. He was playing in his first game since Nov. 21, and notched his first win since a 5-1 victory at Philadelphia on Oct. 7. The win ended Boston's string of seven straight home games without a victory against Carolina.
Sabres 3, Panthers 2
Buffalo, N.Y. Erik Rasmussen had a goal and an assist and J.P. Dumont's goal extended his points streak to five games for Buffalo. Denis Hamel had the other goal for the Sabres, while Dmitri Kalinin had two assists.
Senators 6, Islanders 0
Kanata, Ontario Patrick Lalime made 26 saves for his fourth shutout of the season as Ottawa improved to 19-8-4-0 and moved into sole possession of first place in the Eastern Conference.
Hawks 3, Predators 0
Nashville, Tenn. Jocelyn Thibault made 24 saves for his 17th career shutout as Chicago snapped a five-game losing streak. Eric Daze scored his first goal in seven games, and Michael Nylander and Steve Dubinsky also scored.
Blues 2, Red Wings 2
St. Louis St. Louis' team-record eight-game winning streak ended in a tie with Detroit. Jochen Hecht scored a power-play goal on the Blues' lone shot of the third period to salvage a tie.
Sharks 2, Coyotes 1, OT
Phoenix Gary Suter blasted a shot past Sean Burke 1:53 into overtime as San Jose handed Phoenix its first overtime loss and the Coyotes failed again to win consecutive games in a six-week slump. Sharks goalie Evgeni Nabokov made 27 saves on the way to his NHL-best 17th victory.
Canucks 4, Blue Jackets 3
Vancouver, British Columbia Matt Cooke scored twice and Brendan Morrison assisted on all four Vancouver goals. Morrison set a career high in points and assists as the Canucks won for the fourth time in six games.
Copyright 2018 The Associated Press. All rights reserved. This material may not be published, broadcast, rewritten or redistributed. We strive to uphold our values for every story published.