Twenty tons of aluminum, 500 gallons of paint and three months to go all add up to one fast-track project for Star Signs & Graphics Inc.
The Lawrence-based company is racing to fill orders for nearly 1,000 signs at the new $250 million Kansas Speedway, scheduled for completion April 1. About 50 different types are on order, including entry signs, rest room pointers, sponsor signs and everything else from the hospitality area to a giant sign in victory lane.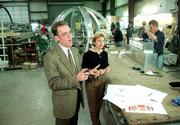 "We're doing all the signs and graphics for the whole complex," said Mike Vickers, president and owner of Star Signs, 801 E. 23rd St. "From the minute you set foot on the property to where you end up at your seat, we're doing all the signs that get you from point A to point Z."
The deal is expected to drive $2 million in revenues for the company, which occupies three buildings near the Douglas County Public Works yard. It also has branch offices in Lenexa and St. Louis.
Sammie Lukaskiewicz, a speedway spokeswoman, said the company's signs would play an important role in a complex expected to attract $170 million in tourist spending each year. A full 70 percent of event tickets sold thus far have gone to people outside the Kansas City metro area.
"It's all new money coming in. It's not all Kansas City money being retreaded here," she said. "And any time we have any sort of signage on the speedway, that's what fans will see first.
"It's important for us to look good, because that's what people will associate with the speedway. We don't want paper sacks with crayons marking out our sponsors."
Vickers and his production team are planning much more elaborate displays.
Headed by project manager Shelley Rosdahl and operations manager Bob Underwood, the project will involve all 45 Star Signs employees. They currently are handling a $500,000 contract for a retail-office project in St. Louis; last year they made $1.1 million in signs for Science City at Union Station in Kansas City, Mo.
Vickers expects total sales of about $4 million in 2000, double the volume of 1990.
Now, with dozens of other projects in their portfolios including sections of Coors Field in Denver, The Palace at Auburn Hills in Michigan and Memorial Stadium in Lawrence the company is preparing to get even larger.
Star Signs has outgrown its 15,000 square feet of leased space in Lawrence, and is looking to build a place twice the size within the next year.
"We've had a very difficult time finding any suitable space in Lawrence; there isn't any," Vickers said. "We certainly hope to stay in Lawrence. That would be our preference."
Copyright 2018 The Lawrence Journal-World. All rights reserved. This material may not be published, broadcast, rewritten or redistributed. We strive to uphold our values for every story published.