Lawrence residents came to the rescue of the food pantry at Pelathe Community Resource Center on Friday, donating thousands of dollars in cash and food to fill the center's pantry.
"They're coming in left and right," Terrence Savage, director of food programs, said late Friday morning.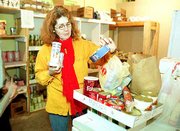 In a story in Friday's Journal-World, Savage said the pantry would close Monday because its shelves and freezers were nearly empty and the center had no money to refill them until January. Nearly 40 families served by the pantry were being told to find food elsewhere.
"If I had $1,200, I could fill this place up for four months," he told the Journal-World Thursday.
By noon Friday, he said, Lawrence residents had donated an estimated $2,700 in cash, and about $1,100 worth of food.
"I'm gonna stay open," Savage said. "I'm gonna stay open as long as I can."
He said the center would open today and a half-day Sunday to continue taking donations and disbursing food.
Donations of food or money may be sent to the Pelathe Community Resource Center at 1423 Haskell Ave. The center's phone number is 841-7202.
Copyright 2018 The Lawrence Journal-World. All rights reserved. This material may not be published, broadcast, rewritten or redistributed. We strive to uphold our values for every story published.