Further decreases in state aid could spell trouble for programs aimed at turning around the lives of juvenile offenders in Douglas County.
No programs are in jeopardy yet, but Douglas County Youth Services Director Pam Weigand said she would keep a watchful eye on offerings from the state agency that allocates money for juvenile justice programs.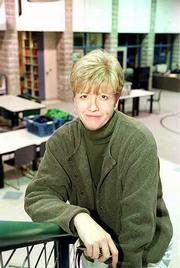 "I'm concerned we won't be able to fund the number of programs we did last year," Weigand said.
Douglas County Youth Services offers more than a dozen programs, including after-school tutoring, counseling, drug and alcohol therapy and other services to juvenile offenders and youths in need. There's also a day school for court-ordered juvenile offenders who violated community correction orders or those suspended from their regular school. The school will be expanded next year to serve 39 students rather than 20.
For fiscal year 2001, the Juvenile Justice Authority of Kansas allocated $682,291 in intervention funds a decrease of $87,647 to Douglas County. The funds are based on a two-year average of the district's juvenile offender conviction rate, which is decreasing according to County Administrator Craig Weinaug.
"Our caseload has been down, so when we apply for that funding, we know there will be a smaller pie," he said. "If the state uses the same formula, our statistics might not justify getting a larger piece of the smaller pie.
But reducing the juvenile conviction rate is good news for counties, said JJA spokeswoman Denise Musser.
"Everybody gains when juvenile crime is down, so everyone should be pleased," she said.
On the plus side, Douglas County received $105,647 that was dedicated for prevention programs an increase of $41,710. The funds are based on a three-year average of the district's high school failure rate.
"Last year, Lawrence had a phenomenally large number of students drop out," Weigand said.
In 1998-99 school year, Lawrence High School's dropout rate increased to 6.3 percent while Free State High School's rate fell to 3.3 percent. That equated to 38 students at Free State and 77 students at LHS. For 1999-2000, rates fell at both high schools, to 3 percent or 35 students at Free State and 2.6 percent or 33 students at Lawrence High.
In the spring, Weigand said she plans to meet with the executive planning members of the local JJA Board to review its current list of programs. The programs now address the top three risk factors affecting youths in this district: early and persistent antisocial behavior; family management and family conflict; and availability of drugs/early initiation of problem behavior.
"We know we won't have any problems funding any of the programs we have now," she said. "But, once we know what the picture looks like next year, we'll have to go through the cycle again and see what programs fit best with the JJA."
Copyright 2018 The Lawrence Journal-World. All rights reserved. This material may not be published, broadcast, rewritten or redistributed. We strive to uphold our values for every story published.