Few people were surprised when Wichita State's men's basketball team was picked to finish last in the Missouri Valley Conference in a preseason poll.
But WSU has shocked everyone, including first-year coach Mark Turgeon, by winning five of its first six games.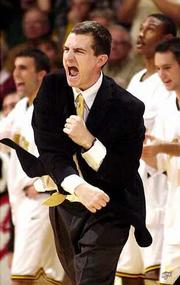 "I'm extremely happy," said Turgeon, the former Kansas University guard and assistant coach who replaced Randy Smithson after the former WSU standout was fired in March. "I wasn't sure we could win any game after the first few weeks of practice. Except for the Texas-Arlington game, we've played really well. We're pleasantly surprised."
For the record, the Shockers beat Texas-Arlington by 14 points. WSU's only loss was a three-point setback against Washington (3-3) of the Pac-10. The Shockers' five victories include a 61-59 triumph over Big 12 power Oklahoma State (4-1).
"We're having fun," WSU athletics director Jim Schaus said. "Mark's brought a new sense of enthusiasm."
The Shockers were 12-17 last year and finished tied for eighth in the 10-team MVC. They haven't won a league title since 1983 and haven't earned an NCAA Tournament bid since 1988.
Turgeon and his staff, which includes former Jayhawk Tad Boyle, have turned things around in a hurry much like they did at Jacksonville State. The Gamecocks struggled through an 8-18 season in Turgeon's first year there (1998-99) but posted a 17-11 record in his second and final season.
It looked like Turgeon was in for another rebuilding season at WSU. The Shockers lost three starters from last year's team, including MVC scoring leader Jason Perez. Guard Terrell Benton was the only player returning who averaged more than five points a game.
But Benton, who starred at nearby Derby High before becoming a Shocker, has emerged as one of the top scorers in the league with an average of 18.8 points a game. Junior college transfers C.C. McFall and Duke Tshomba have also made an impact.
"We felt like we had to go juco to give ourselves a chance to win this year," Turgeon said. "The four guys we're bringing in for next year are all high school seniors."
Though Turgeon wants more consistency from his offense, the defense has been solid. The Shockers are holding opponents to 59.6 points a game on 37 percent shooting. Despite not having a player taller than 6-foot-8, the Shockers have a plus-seven rebounding advantage.
"I'm excited for Mark," KU coach Roy Williams said. "I've spoken to him a couple times since the season started. He has the fans fired up and believing again. He has the players believing they'll be successful. He has two wins against Big 12 teams. He feels ecstatic about that."
In addition to the victory over OSU, the Shockers defeated Kansas State, 76-66, in the season opener.
So when will WSU add another Big 12 team, say Kansas, to its schedule?
Turgeon said the Shockers' schedules for the next few seasons are difficult enough without adding a national power such as the Jayhawks.
"Mark and I have talked," Williams said. "We'll visit the playing issue two, three, four years down the line."
This year's schedule is about to get a lot tougher for WSU, which has played its first six games at home. Three of the team's next four games are on the road, starting Saturday at MVC favorite Creighton (4-3).
"We haven't been a very good road team in the past, so it will be interesting to see how we react," Turgeon said. "It's not going to be easy. We want to go to Creighton and play well. If we do that, I'll be happy win or lose."
After a nonconference home game against Hampton (5-2), the Shockers go back on the road to face WAC power Tulsa (6-2) and Wyoming (5-1) of the Mountain West.
Playing well in front of large home crowds has helped WSU during its surprising start.
"Now we have the confidence to go on the road," Turgeon said. "It takes time when you're putting in a system. I didn't see it happening this fast. In a couple of games, our guys just wanted it more than the other team."
Like WSU's players, the Shocker faithful are hungry for a winner. Wichita State drew an average of 7,300 fans to 10,432-seat Levitt Arena last year. The Shockers averaged 8,302 fans during their season-opening homestand.
"When you've had two winning seasons in 10 years and you still average 7,300 fans, that says a lot about the loyalty of your fans," Schaus said.
Those fans have taken to Turgeon.
"He recruited well in a short time last spring. He's recruited well for next season. Our fans can see that," Schaus said. "They're educated basketball fans.
"He's extremely professional in everything he does. I couldn't be more pleased. He's extremely well received on and off campus. He's a class act, and he's hired assistants who are class acts."
Big crowds at basketball games are critical for Wichita State, which doesn't field a football team. WSU has committed $25 million to updating its facilities. Schaus said building a successful basketball program which could fund all the other Shocker sports programs is the athletics department's No. 1 goal for the next five years.
What about this year? Turgeon and Schaus are both realistic. They're not sure how good WSU can be, but they're pretty confident the Shockers won't finish last in the Valley.
"We've seen evidence that we might be better than that," Schaus said. "We don't expect to win the league. That's down the road for us, but we expect to improve, and I think we will.
"It's going to take time, but Mark has time because he has my confidence."
He also has a five-year contract.
Winning at a Missouri Valley school like WSU can be a stepping stone to bigger and better jobs for young coaches. Former Kansas assistant Kevin Stallings, who was friends with Schaus when they were students at Purdue and worked with Turgeon under Williams, turned Illinois State into an NCAA Tournament regular before heading to Vanderbilt.
But Turgeon doesn't sound eager to leave. The 35-year-old coach has already made plenty of moves in his young career. He worked at KU under Larry Brown and Williams (1987-92), at Orgeon under Jerry Green (1992-97), for Brown again with the Philadelphia 76ers (1997-98) and got his first head coaching job at Jackson State (1998-200).
Turgeon was a finalist for the head coaching job at Oregon when Green left for Tennessee, but he didn't get that job. The Topeka native is happy he ended up back in Kansas and that his 15-month-old son, William, is growing up near his family.
"Everything works out for the best," Turgeon said. "My goals have changed now that I have a family. When I was 22 or 23, I wanted to coach at the highest level and compete for national championships. Now there are other things that are more important. I want to be somewhere that I can raise a family and have a chance to win. I have that here. I love this city. I love being here."
Copyright 2018 The Lawrence Journal-World. All rights reserved. This material may not be published, broadcast, rewritten or redistributed. We strive to uphold our values for every story published.