St. Louis — With prices on the free agent market out of their reach, the St. Louis Cardinals turned to Montreal to fill their pitching needs.
The Cardinals dealt third baseman Fernando Tatis and right-handed reliever Britt Reames Thursday to the Expos for pitchers Dustin Hermanson and Steve Kline.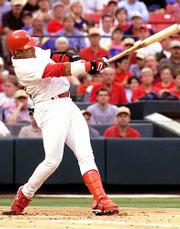 "We're better served by dealing in trades than with free agents," Cardinals general manager Walt Jocketty said. "We've had better success with that. I think we gave up some value here, but I think the return that we get is significant."
The move came less than a week after St. Louis focusing on adding pitching during the offseason failed to sign Mike Hampton, who agreed to a $121 million, eight-year contract with the Colorado Rockies.
"But it just got to the point where it got out of hand," Jocketty said. "I think we were still in it at the end, but we were millions away from where he ended up."
Instead, the Cardinals moved on a deal in the works for at least a month, finally agreeing to package Reames with Tatis to get the two pitchers.
With the additions, St. Louis has six experienced starters Darryl Kile, Garrett Stephenson, Andy Benes, Rick Ankiel, Matt Morris and Hermanson plus a solid bullpen, anchored by closer Dave Veres, Mike Timlin and Kline.
Hermanson, 27, was 12-14 with a 4.77 ERA in 30 starts and eight relief appearances with the Expos last season. He has a career 47-48 record and 4.17 ERA in 170 games, 122 as a starter.
Hermanson won a career-high 14 games in 1998 with a 3.13 ERA. He has struck out 559 batters in 805 career innings, walking 292.
"I believe he could be a No. 2 or some day a No. 1 (starter)," Jocketty said. "He's got the stuff to do it."
Kline, 28, fills a void for a quality left-handed reliever. He had 14 saves in 18 chances while serving as the Expos closer for three months this year. He went 1-5 with a 3.50 ERA in 83 games, leaving his career record at 15-19 with a 3.84 ERA.
"This is a guy we've been searching for for years," Jocketty said. "He's really the first left-hander we've gotten under 30 years of age actually under the age of 40 since I've been here."
Both are signed through the 2002 season with club options for 2003.
Tatis, who on March 11 agreed to a $15 million, four-year contract, is the first player to hit two grand slams in an inning, accomplishing the feat in 1999 at Los Angeles. He hit .298 that season with 34 homers, 107 RBIs and 21 steals.
"He hits the gaps. He hits the ball hard," Expos general manager Jim Beattie said. "He runs well. Across the board, he's an excellent athlete."
Tatis started strong this year, batting .375 with 28 RBIs in April. But he tore a groin muscle in a game at Philadelphia, missed 54 games, and hit just .204 upon his return. He struggled so badly that he was benched for much of the postseason in favor of Placido Polanco. Tatis wound up hitting .253 with 18 homers and 64 RBIs.
Asked to explain the decline, Jocketty bluntly said Thursday: "He signed a contract.
"There is some risk involved in trading a guy like Tatis, because of his potential and what he as done in the past," Jocketty said. "But we were concerned about his approach to the game this year and his work habits."
Reames, 27, was thought to be an possible starter for the Cardinals next season. A rookie this year, he replaced the injured Andy Benes for a month at the end of the season. He was 2-1 with a 2.86 ERA for eight games, then pitched 92/3 innings in the postseason, giving up just one run.
He replaced fellow rookie Rick Ankiel in Game 2 of the NL championship series, allowing one run in 41/3 innings. He was a possible pick to start Game 6, but the Cardinals lost in five games to New York.
Jocketty said Polanco and Craig Paquette will share duties at third base next season.
One of the Cardinals' top minor leaguers, Albert Pujols, is a third baseman but is probably a year away from the major leagues, he said.
Pujols, 20, moved from Class A to Triple-A in his first professional season. At Class-A Peoria, he hit .324 with 17 homers and 84 RBIs.
The departure of Tatis leaves St. Louis with just one right-handed power hitter, first baseman Mark McGwire. Jocketty said McGwire feels his recovery from knee surgery is ahead of schedule.
Copyright 2018 The Associated Press. All rights reserved. This material may not be published, broadcast, rewritten or redistributed. We strive to uphold our values for every story published.