When the Community Mercantile Co-op moves into its new, larger home early next summer, it'll have more than a wider selection of products, twice as much shelf space and likely a new video store.
For the first time, it'll also have a butcher.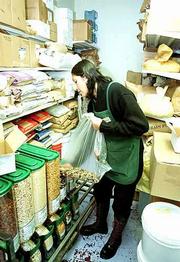 "He'll do fresh chicken, pork and beef," said Jeanie Wells, general manager for the co-op affectionately known as the Merc. "We're working with an alliance of local meat producers for locally raised and organically fed free-range meats.
"We're hoping to have a really nice spread."
The optimism spreads into all facets of the cooperative operation, which next month will launch renovations at its new home inside the former Alvin's IGA at 925 Iowa in the Hillcrest Shopping Center.
The much-anticipated and long-awaited move from 901 Miss. is picking up speed this month, now that a long-term lease has been signed and the project has cleared regulatory hurdles at city hall.
All that's left now is finishing the design, selecting contractors, determining personnel needs, finding a moving company and handling dozens of other issues before the move can begin.
For now, co-op officials have their sights set on an opening by early summer, likely sometime in June.
With about 14,000 square feet of retail space, the new store will have about twice as much space for the Merc's familiar lineup of organic vegetables, natural health products and all manner of soy milk, granola and other products.
New features will include a fresh meat counter, including seafood; a floral department with pesticide-free flowers; and an expanded deli, with seating in front and more capacity to speed carry-out orders. There's even talk of Liberty Hall opening a satellite video store inside the new Merc.
The move also will put the Merc on stronger footing to battle traditional grocers such as Hy-Vee and Dillons that have opened new stores with dedicated natural-foods sections. Co-op officials still remember a bitter battle for customers with Wild Oats Market during the mid '90s, which nearly sent the Merc into bankruptcy.
"The natural-foods marketplace is highly competitive, with some of the fastest growth in the grocery industry," said Nancy O'Connor, the Merc's nutrition educator and a member of its management team. "We aren't as naive as we used to be. We realize that we have to stay ahead of it or it will roll over us.
"We're excited and scared, too."
Today, with 83 employees, the Merc has nearly 1,700 member-owners and anticipated sales this year of $4.3 million, up 10 percent from the $3.9 million in 1999.
Wells, the general manager, said the relocated store would require more than 100 employees including a butcher and could be expected to produce annual sales of more than $8 million in sales within five years. A membership drive aims to get another 500 people signed up by the time the new place opens.
As for the old store a former bowling alley that has been the Merc's home since 1993 Wells isn't sure who will take it over.
"We've had restaurants interested in it," she said. "We've had social organizations interested in it. We've had several requests for office space, bookstores. Most of them have been from Lawrence, but there have been a couple places from Kansas City. We've even had a national retail chain inquire."
Copyright 2018 The Lawrence Journal-World. All rights reserved. This material may not be published, broadcast, rewritten or redistributed. We strive to uphold our values for every story published.