Officials with the city's new bus system have decided to give residents with disabilities two extra weeks to apply for door-to-door transportation.
"We were concerned the message hadn't reached enough individuals," said Mike Sweeten, division manager for MV Transportation.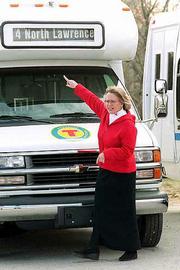 Bus service is scheduled to begin Saturday morning. Most residents will be able to flag down passing buses from intersections along the routes.
But about 350 Lawrence residents with disabilities use the Lawrence Bus Co. for door-to-door transportation. The city is absorbing the paratransit service but it isn't automatically absorbing the old riders.
Bus officials said Friday that people who apply before the Dec. 16 startup will be able to use the service until the applications clear. Those who apply afterward were going to wait until the application is approved.
Wednesday, though, the city announced it is extending the deadline two weeks, to Dec. 30.
Residents eligible for paratransit service include:
Individuals with physical or mental disabilities that prevent them from boarding, riding or leaving an accessible transit vehicle.
Individuals who require lifts and other accommodations.
Individuals with impairments who are unable to travel to or from their boarding and unloading locations.
One-way fare on the paratransit system is a dollar. Residents who meet Americans with Disability Act requirements can use their identification cards to receive service on similar transit systems in other cities.
Residents who want to apply for the service should contact MV Transportation, 930 E. 30th St., at 312-7054.
Startup of the service will be celebrated with a public ceremony at 2:30 p.m. Friday at city hall, Sixth and Massachusetts streets.
Copyright 2018 The Lawrence Journal-World. All rights reserved. This material may not be published, broadcast, rewritten or redistributed. We strive to uphold our values for every story published.